Summer's dad tells us about their day out to Windsor Castle, which they won tickets for at our Kidz to Adultz South event.
Kidz to Adultz South was our first ever disability exhibition and we went with an open mind as to what we expected. What we didn't expect was for Summer to have an amazing time and see a fantastic array of equipment which was all suitable for her. She stopped by every stall and said hello and asked what they were displaying. It was one of very few times that she felt as though she belonged as everything was aimed towards her.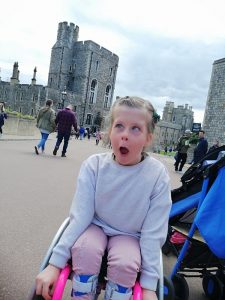 We certainly didn't expect to come away with a family ticket to Windsor Castle after winning the Balloon Competition. As with any 7-year-old girl, princesses, queens and big fancy castles are a dream come true. So when we told Summer that we would be visiting Windsor Castle, a royal residence in Berkshire, she was ecstatic.
The day we planned to visit; Summer was awake super early
The excitement was barely containable as we arrived in Windsor. We asked Summer what she wanted to see the most, to which she replied, "I want to see the Queen, will she be there?". Well we may not have seen Queen Elizabeth II herself, but the castle grounds were fantastic. As we entered the State Apartments, staff were ready and waiting to take Summer through the V.I.P door (disabled access with a ramp) and behind the scenes through the servants' quarters into the main building.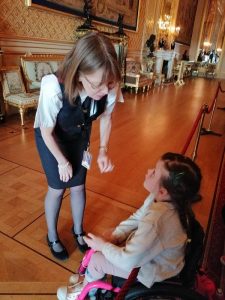 Summer was greeted by some amazing displays of shiny armory and fantastic artwork of the past kings and queens. Staff members were available in every room to answer questions, of which Summer had many. They explained why there were many unicorns and lions in each room (the symbol of Scotland and England). Also, how there are secret doors leading through different chambers of the building that the Queen will use to make a hasty exit when needed.
We headed down to St George's Chapel
We were again met with steps to enter. There was a very nice man who led Summer round through the Horseshoe Cloisters. He explained these are the living quarters for the chapel choir as they have to practice 6 days a week. We were led round behind the chapel into the V.I.P entrance (wheelchair access) and were shown where Prince Harry, Duke of Sussex and Meghan, Duchess of Sussex got married. As we passed through the chapel, Summer was shown the Queen's stall where she would sit to watch the wedding and the choir singing.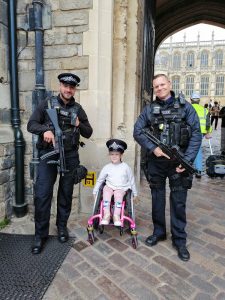 Before leaving, Summer had a final chat with the armed policemen who were guarding the exits to the castle and explained how they must protect the castle from intruders.
The whole day was thoroughly enjoyable, and Summer found it to be truly magical learning how the Queen lives
The staff were fantastic with her and access was brilliantly planned out for such an old building. We would highly recommend the castle to anyone with or without disabilities. We felt that everything that could've been done to help Summer get around, was done perfectly. Summer has told us we will be returning and next time we must call first to see if the Queen will be there!
[divider type="1″][/divider]
This article and photos featured were sent to us by Shaun, Summer's dad. For information about visiting Windsor Castle please visit: https://windsorcastle.co.uk/ 
Upcoming dates for our Kidz to Adultz events are: