Kidz to Adultz North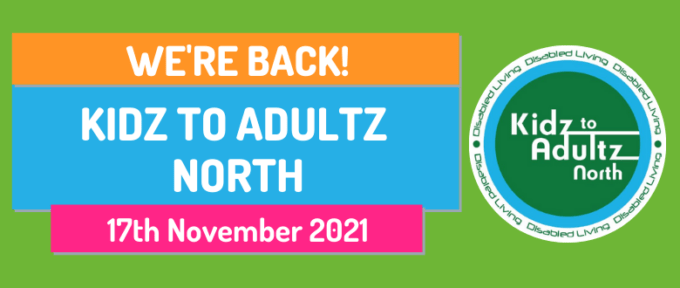 Kidz to Adultz Face to Face Events Organised by Disabled Living – We're Back Live!
Wednesday 17th November 2021 – NEW VENUE!
It's been a long time coming! We are absolutely delighted to announce the Kidz to Adultz 'face to face' events are back starting with Kidz to Adultz North in November at the Exhibition Centre Liverpool, an outstanding conference and event venue on Liverpool's iconic waterfront.  Exciting, resonant, inspirational: some of the words visitors use to describe the Exhibition Centre Liverpool. On the banks of the River Mersey at the heart of the city's iconic waterfront, the Exhibition Centre Liverpool is a fully accessible, world-class facility in a unique setting.
Our priority continues to be the safety of all those involved, in particular our vulnerable children and young adults, their carers and the health professionals who support them, as well as our team and of course all the exhibitors and contractors involved in putting together these amazing events.
Register for FREE tickets & updates
Book your free ticket for Kidz to Adultz North! If you require further information please contact the Kidz to Adultz team. Tel: 0161 214 4592. Email: info@disabledliving.co.uk
Who is this event for?
This event is dedicated to children and young adults with disabilities and additional needs, their parents, carers and the professionals who support them.
Where is Kidz to Adultz North?

The Exhibition Centre
The Exhibition Centre Liverpool, Kings Dock, Liverpool Waterfront, Liverpool, Merseyside, L3 4FP
Just in case your satellite navigation device doesn't recognise the Exhibition Centre Liverpool you can use the postcode L3 4BX and enter the city as 'Liverpool' and the road name as 'Queens Wharf'
Please note that visitors will have to pay for parking at the venue. For more information, see the link below.
Venue information
Parking information
Showguide
Exhibition Centre Liverpool is a cashless venue
180+ exhibitors offering advice and information on:
Funding
Mobility
Seating
Beds
Communication
Access
Accessible vehicles
Education
Legal matters
Style
Sensory
Sports activities
Holidays and leisure
and much more!
Exhibitor list
Book a stand
Floorplan
FREE CPD accredited topical seminars 
Boost your CPD portfolio and gain credits by attending one or more of the FREE CPD seminars taking place alongside the exhibition. Seminars are presentations covering a wide range of issues and interests to families and carers of children with disabilities and special needs, and the professionals who work with them. Topics include: toileting issues, autism, transition, employment, seating and much more!
Seminar Programme
See what our exhibitors and visitors have to say:
Bundlebean: "We had our best experience yet at Kidz to Adultz North. We met loads of gorgeous kids and young people and just had a wonderful time. We sold out of three lines of stock by 11am! Thank you so much for putting on another fab show."
Parent: "What an amazing event! Disabled Living really do think of everything. There's so much information and everybody was really friendly. It was great that we could try out equipment and have a better idea of what we're looking for."
More about Kidz to Adultz North
Kidz to Adultz North, our flag ship event was established in 2001 (originally named Kidz up North). After 12 very successful years at the Reebok Stadium, Bolton and to meet demand for growth, this event was relocated to EventCity, Manchester in 2013. For our next event in November 2021, it will be held at  ACC Liverpool, Kings Dock, Liverpool Waterfront, Liverpool, Merseyside, L3 4FP
For information about sponsorship or advertising please click on the button below.
Sponsorhip and advertising