This post has been written by Hannah Ensor, Founder of Stickman Communications Limited. Stickman Communications Limited will be at stand C9 for the Kidz to Adultz Wales & West exhibition next week! 
If you haven't come across our stickmen before, this is a perfect opportunity to discover our products featuring stickman cartoons and clear phrases that help non-disabled people to understand the normals of life with disability, and to respond appropriately – taking the fear and awkwardness out of the conversation.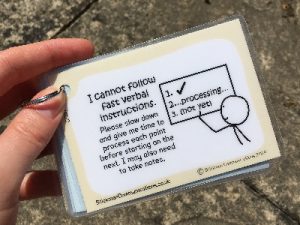 Started as a way to communicate about her own conditions (hypermobility spectrum disorder and postural tachycardia syndrome) Hannah Ensor's unique stickman approach proved both popular and effective with people of all ages, and now covers a huge range of conditions and symptoms including diabetes, autism, ADHD, SPD, mental health, pain, fatigue, lupus, seizures, fainting, information processing problems and much more.
The latest products are a series of cards relevant to ADHD – including overviews of ADD and ADHD, a description of hyperfocus, and a card asking for more time to process decisions. Rather than being created from a medical perspective, these were developed by working with people with ADHD – listening to what they needed people to know, and the misunderstandings which make their lives harder. The result is a set of tools that allow individuals to educate the people who need to know, without fuss or drama, and with minimal misunderstanding.
These 6 new card designs, available with a striped border or a plain border are in our 'New Products' category on our website here – you will find the 170 other card designs on the rest of the site, as well as badges, T-shirts, stickers, posters, books and more, so come to the Stickman Communications stand at the Kidz to Adultz Wales & West exhibition (C9) to have a look at the range of products and get more information!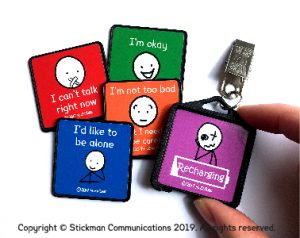 "I ordered a diabetes type 1 pack…. I must say I am super happy. My daughter is 6 and she loves them, said herself this will make people understand."
Thank you so much for inventing your communication cards, these will finally allow me to explain to those around me what I am feeling which I have never truly been able to do for nearly all of my [life], just reading them has also explained why I do certain behaviours while in certain situations, I received a late Autism Spectrum Condition diagnoses two years ago when I was 33 years old so your cards that I have recently ordered will help me to navigate the neurotypical world without the added stress I've always had when it comes to communication, as when I am in so many different situations (noisy, busy, crowded etc) I lose the ability to verbally communicate so your cards will be my voice. So thank you so much for creating them and giving me a voice at the times when I don't have one.
"The cards arrived today and I've got them attached to my work bag already. Having fainted in a work meeting the other week because I couldn't excuse myself I think the 'need to leave' card is going to be invaluable. And the 'lend a hand' one will be very useful for someone who finds it very hard to ask to help – the card will help open up the conversation. I'm getting better – I'll now accept help, but somehow the words asking for it get stuck in my throat…."
For more information please visit: StickmanCommunications.co.uk