Kidz to Adultz South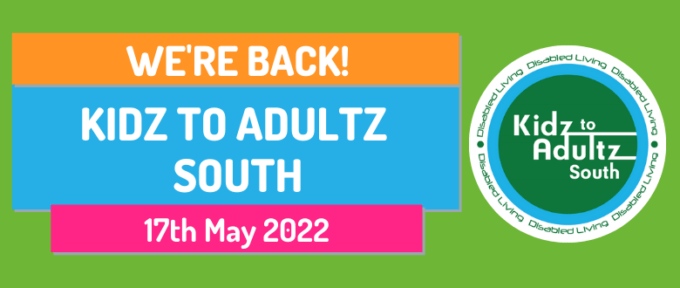 Kidz to Adultz Face to Face Events Organised by Disabled Living – We're Back Live!
Tuesday 17th May 2022, Farnborough International Exhibition & Conference Centre
The Kidz to Adultz events are an extremely valuable and key source of information and advice for many, many people. Like many charities this has been a very complex and difficult time. Our priority continues to be the safety of all those involved, in particular our vulnerable children and young adults, their carers and the health professionals who support them, as well as our team and of course all the exhibitors and contractors involved in putting together these amazing events.
We will be sending out regular newsletters and mailings to all our contacts and posting regular updates on our website and social media sites.
In the meantime Kidz to Adultz Venue to Virtual –  is back week commencing 28th June – Watch this space for further updates!
Register for FREE tickets & updates
If you require further information please contact the Kidz to Adultz team. Tel: 0161 214 4592. Email: info@disabledliving.co.uk
Where?
Farnborough International Exhibition & Conference Centre, Farnborough, GU14 6FD
(for Sat Nav use GU14 6TQ – follow signs for Gate F)
Established in 2007 and after 10 very successful years at the Rivermead Leisure Complex in Reading, Kidz to Adultz South was relocated to the much larger, very prestigious Farnborough International Exhibition & Conference Centre in 2018. The purpose built venue is fully accessible, offers free parking with the additional benefit of stunning views of the airfield. The venue is conveniently located, just 15 minutes from the M3 Motorway and 35 minutes from London by train, and offers much easier access to the Kidz to Adultz events for people from Greater London, Hampshire, Buckinghamshire, Sussex, Kent, Oxfordshire and further afield.
Venue information
140+ exhibitors offering advice and information
Funding
Mobility
Seating
Beds
Communication
Access
Accessible vehicles
Education
Legal matters
Style
Sensory
Sports activities
Holidays and leisure
and much more!
For information on the exhibitor list, booking a stand and floorplan details please see click on the buttons below.
Exhibitor list
Book a stand
Floorplan
FREE CPD accredited topical seminars
Boost your CPD portfolio and gain credits by attending one or more of the FREE CPD and topical seminars taking place alongside the exhibition. Seminars are presentations covering a wide range of issues and interests to families and carers of children with disabilities and special needs, and the professionals who work with them. Topics include: moving and handling, toileting issues, seating, sensory transition, employment and much more!
Seminar Programme
What our exhibitors and visitors have to say
Parent: We attended the  toilet training seminar which has been an area of concern of ours. How do you toilet train someone who can't 'go' to the toilet! Some interesting insights and useful follow up conversation at the Bladder & Bowel UK stand. Thanks #KidztoAdultz team!
Calibre Audio Library: One of the busiest and most successful exhibitions we've attended in a number of years! The event was absolutely fantastic. We didn't stop speaking to people from the moment it opened.
Sponsorship and advertising
Sponsorship & advertising
Our Kidz to Adultz South Showguide and flyer will be live soon!