This is a guest blog by Recare who will be exhibiting at Kidz to Adultz North on Wednesday 17th November 2021 at The Exhibition Centre in Liverpool. Click here to see more information and to register  
See the Recare range at Kidz North
Recare, the respected family-run rehabilitation and healthcare equipment specialist, will be showcasing its leading paediatric products and services at Kidz-to-Adultz-North (The Exhibition Centre Liverpool, 17th November 2021, stand J10, Kings Dock, Liverpool Waterfront).
Kidz-to-Adultz-North is organised by the charity Disabled Living and provides a showcase for the latest equipment, services and charities that help children and young adults with disabilities. This will be the first physical event organised by Disabled Living since the start of the pandemic and Recare are delighted to be displaying their assistive equipment and specialist support services. Recare is renowned for its extensive expertise and senior product advisors will be on hand to discuss individual needs on a one-to-one basis.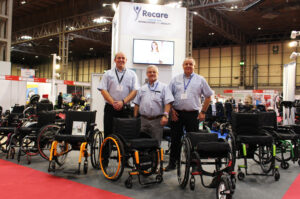 Alongside its established range of popular manual and powered wheelchairs from leading manufacturers, Recare will be demonstrating the UK launch of a selection of new products for younger users. These will include the new Leon F Kameleon powerchair from Karma and the Aergo seating system which cleverly operates via an App so pressure can be monitored remotely. Recare will also be inviting visitors to experience the PDQ Fuze paediatric tilt-in-space wheelchair which provides a robust and compact wheelbase ideal for children. Additionally the stand will provide a glimpse of the UK's first Free Complete Specialist Seating and Rehabilitation Solutions Clinic.
Which Recare products will you see?
Recare is a trusted provider of high-quality brands such Motion Composites wheelchairs, Benoit Systemes power add-on devices, Permobil powerchairs, PDG Mobility durable manual wheelchair products, and the renowned Supracor Stimulite Honeycomb Cushions. Its Kidz stand will particularly highlight its speciality in complex powerchairs, backed up by impartial professional advice. This guidance will be enhanced by the attendance of Grant Turner, Recare's recently appointed in-house Occupational Therapist. Grant and his colleagues will be able to offer live demonstrations of their specialist pressure mapping system.
What is pressure mapping?
Pressure mapping is a clinical tool that uses specialist sensor technology to provide computerised visual and numerical readings that illustrate pressure distribution over a specific area. In terms of seating, Recare use this technology to determine how a person's body shape interacts with a cushion and backrest. They can then organise manufacturing of tailor-made solutions for optimum support and healthy posture.