This is a guest blog by Driving Mobility who will be exhibiting at Kidz to Adultz North on Wednesday 17th November 2021 at The Exhibition Centre in Liverpool. Click here to see more information and to register.
Driving Mobility at Kidz North
Supported by The Department for Transport, Driving Mobility, the charity that coordinates a national network of driving assessment centres, will be presenting its range of mobility services at Kidz-to-Adultz-North exhibition (The Exhibition Centre Liverpool, 17th November 2021, stand V34, Kings Dock, Liverpool Waterfront).
Organised by the charity Disabled Living, Kidz-to-Adultz-North is a free-to-attend exhibition which provides a showcase for all the latest products and services to assist children and young adults with disabilities. This is the first physical Disabled Living event to take place since the start of the pandemic and will offer a unique opportunity for all disabled visitors, families and healthcare professionals. Part of the diverse range of stands on show, the Driving Mobility team will be advising how individuals gain or maintain independence whilst working closely with their Occupational Therapists. Visit the stand and find out why assessments by qualified Driving Mobility clinicians is vital.
Who are Driving Mobility?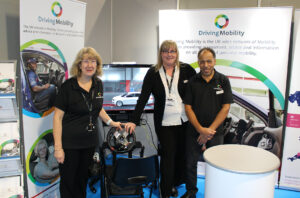 Driving Mobility accredits over 20 main centres across the UK, many with outreach facilities, which provide professional support and driving assessments for young disabled people who wish to learn or retain the ability to drive. Individuals aged 16+ with a qualifying disability can self-refer or seek recommendation to Driving Mobility services via the DVLA, Motability and the NHS. Once a provisional licence application is complete, Occupational Therapists and ADIs (Approved Driving Instructors) from Driving Mobility can assess, review and signpost young drivers to the most appropriate adapted vehicle. These services will be explained at Kidz-up-North by representatives from two Driving Mobility centres – namely the William Merritt Disabled Living Centre based in Leeds and RDAC Manchester.
What can you expect from Driving Mobility at Kidz North?
Steve Perry, Driving Mobility Trustee, said: "We look forward to another busy Kidz event and being able to help visitors once again on a face-to-face basis. Our team will be able to answer all questions relating to assisted driving and explain how our Occupational Therapists work effectively with their peers in the community. Driving Mobility is 100% committed to positive outcomes for all so even if driving a vehicle is not an option, our centres can recommend a range of alternative solutions from powered wheelchairs to accessible public transport."