This is a guest blog by Aergo who will be exhibiting at Kidz to Adultz North on Wednesday 17th November 2021 at The Exhibition Centre in Liverpool. Click here to see more information and to register.
Ground-breaking postural system
November 2021 marks the official launch of the Aergo PS, designed by Aergo Health. The world's first fully responsive, app-controlled postural management seating system designed for children and young adults.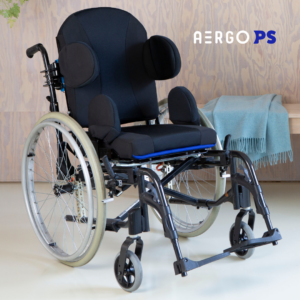 This ground-breaking postural seating system combines thousands of pieces of feedback from young wheelchair users, their parents, carers, educators and therapists across the UK together with years of product design and technical innovation by a highly talented team of designers led by founder Sheana Yu.
This collaborative approach by Aergo Health has resulted in the creation of a dynamic postural management seating system that uses pressure sensitive air cell technology to improve the seating position and comfort of children while giving them more independence.
The power of inclusive technology
Sheana Yu has lived experience of scoliosis and she combined that with a passion for helping people to live life to their fullest through inclusive technology.
Sheana on founding Aergo Health and the launch of her product, Aergo PS,
'I founded Aergo Health to bring together talented designers who listen, innovate and create ground-breaking products that allow people to do more than ever before. I'm delighted that the Aergo PS will help support children who face many challenges in their lives maintain a healthy sitting position throughout the day with a limited need for hands on support from their caregivers.'
The Aergo PS postural management seating system brings together 4 key elements – air cell technology, the PS frame which interfaces with manual and powered wheelchair bases, a user app (compatible with Android and IOS) as well as a clinician web portal.
Following clinical assessment, the app is used to adjust inflation of the carefully positioned air cells to set the ideal position for each child according to their individual postural requirements. From this baseline, the app may be used by children and young people to adjust their own posture or facilitate their carers in providing 'hands off' support.
The Aergo PS provides ongoing positional information on how a child is sitting giving therapists the ability to review seating positions over time and make adjustments as required.
As well as offering dynamic postural support, the Aergo PS represents a cost effective and time saving option within the NHS provision of equipment and care.
For parents interested in private purchase, Aergo Health has launched the exclusive PS Pioneer Progamme. The programme is offering a limited introduction price of 50% off the retail cost of the Aergo PS. Our PS Pilots (early adopters) of the Aergo PS will join a very small group of young people helping us continue our developmental work as well as having direct access to the Aergo Health tech and support team. The programme also includes a host of additional benefits and treats.
See the products at Kidz North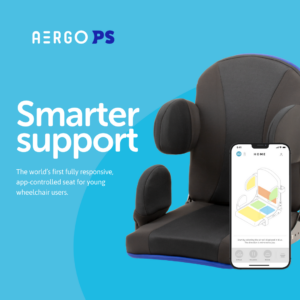 Tim Daniels, Business Commercial Lead for Aergo Health comments,
'We're thrilled Kidz to Adultz North ties in with the official launch month for the Aergo PS. Kidz to Adultz North is such a respected and well-known event for bringing together special needs families and key opinion leaders in the area of positioning and postural seating.
We hope that this represents a huge opportunity for therapists and families to discover a new option for postural seating management, one that combines the key requirements of good positioning for children and young people together with the features of digital health in the 21st Century.
Please join us on Stand H7 to learn more about the Aergo PS and to see a full demonstration of the product together with the app and the clinical web portal.
We can't wait to meet you!