Volunteers' week runs from 1 – 7 June. As a special thank you to our wonderful volunteers, we would like to share the 10 ways in which they make such a positive impact here in our Kidz team at Disabled Living.
We have many volunteers helping out at the Kidz to Adultz events. Before the events they assist us with the mailings which involve sending the flyers with the event information. They've had various roles during the events: helping on registration, supporting on the parking sites, helping to set up the seminar rooms and activity areas, and general assistance to the event visitors.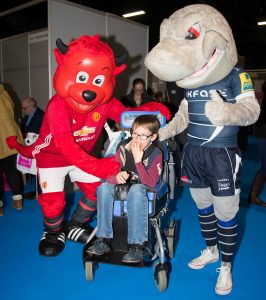 Also, there's a really fun aspect of being a volunteer when they are given the chance to dress up. There have been volunteers who have dressed in costumes such as: Father Christmas, Fred the Red, and Sharky – all which have been a great attraction for our visitors.
All of our volunteers help to make a difference
There are many groups that have helped, which include: The League of Jewish Women, St Ambrose Barlow 6th Form, Deloitte, and Royal Bank of Scotland. Alongside these, we've had some regular volunteers with one in particular, David Edmondson, who comes to Burrows often and helps to coordinate with other volunteers.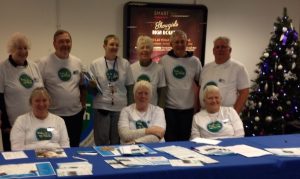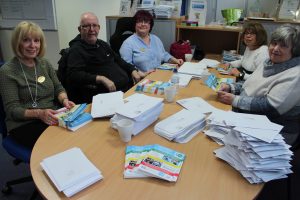 To all of our volunteers, here are the 10 ways you make a positive impact by volunteering with us.
Without you we wouldn't have the information sent out to everybody as quickly
You contribute to the hard-work and determination of the team
Your customer service at events delivers great help for our guests
Your friendly and kind manner promotes a positive attitude about what we do
You help our events run more smoothly and professionally
You're an inspiration, not only to us, but to the whole community
You make the little things count because you'll contribute to anything you can
You value the idea of volunteering and how important it is for people to help others
Your kind nature shows that others can spare hours, days or longer to help somebody
Without your support, we wouldn't be able to make things happen
All of your help and support makes us smile and by volunteering for us, you enable others to see how someone could help benefit from volunteering at other non-profit organisations.
To see more information about Volunteers' Week and how you can get involved please visit the Volunteers' Week's website or follow NCVO Volunteering on Twitter.