At Kidz to Adultz Middle, TGA Mobility will be exhibiting for the first time with examples from its quality wheelchair, wheelchair powerpack and powerchair range – ideal for teenagers and young adults with restricted mobility.
Thursday 15th March 2018, 9.30am – 4.30pm, Ericsson Exhibition Hall, Ricoh Arena, Coventry CV6 6GE. Stand D15. Free entry and parking.
Kidz to Adultz Middle is one of a series of regional Kidz exhibitions that showcase the latest products and services that assistive disabled children and young adults and their families. These friendly and engaging events also provide an educational CPD seminar programme for healthcare professionals such as Occupational Therapists. The TGA stand at Kidz to Adultz Middle will display the Swiss-designed ergonomic StrongBack, the range of UK-built TGA wheelchair powerpacks and the pioneering WHILL powered wheelchair.
Many years of expertise in mobility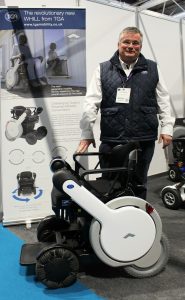 With over 25 years of expertise in mobility, Eric Cooper, TGA wheelchair specialist, will be available throughout the show to discuss individual wheelchair needs. Eric will explain TGA's assessment-led approach to wheelchair provision so that young individuals can be assured of appropriate product recommendations every-time. TGA regularly works closely with OTs so that the clinical needs of clients are met with a view to maximising well-being and independence.
Come and see TGA on stand D15
On stand D15 the WHILL powerchair from TGA will be available for test drives. This state-of-the-art mobility solution appeals to the younger generation as it encompasses unsurpassed styling, manoeuvrability and 4WD drive. WHILL's all-directional front 'Omni' wheels ensure accessibility in the most confined spaces and its powered seat slide offers better postural positioning at school desks and tables. Compatible for transit in accessible vehicles, WHILL is the ultimate statement in 'cool' independence.
Alongside WHILL, TGA will be demonstrating the attendant-controlled and self-propel StrongBack wheelchairs. These lightweight, folding designs provide greater comfort through a unique contoured backrest. This backrest mirrors the natural curvature of the spine so more effective lumbar support is delivered. To give powered assistance to a carer or family member responsible for pushing a wheelchair, TGA offers a range of highly reliable powerpacks. These eliminate the strain associated with propelling a wheelchair especially when tackling slopes, uneven ground or kerbs.