Cerebra is the charity that works with families who include children with brain conditions. We listen to them, we learn from them, we work with them. We carry out research, we design and innovate, we make and share. What we discover together makes everyone's life better. Join us on our journey, and who knows what we could find?
On stand V20 will be:
Our Sleep Team Manager who will be able to give advice and guidance on any sleep issues that parents may be experiencing with their child. She can talk to you about our Sleep Service and how you can be referred to one of our sleep practitioners.
Our Lead Research Officer who can explain all the different aspects of the research projects that Cerebra fund and give further details of current research strategy.
Our Training Officer will be presenting a seminar on our Accessing Public Services Toolkit at 2.00pm in seminar room 1 and he will also be able to give a more in-depth explanation of our toolkit on our stall. He also has extensive experience on welfare benefits and in particular DLA and PIP and he will; be available to answer any queries you may have.
Our Deputy Head of Research and Information who can give you an overview of all the services that Cerebra offer to families with a child with a brain condition.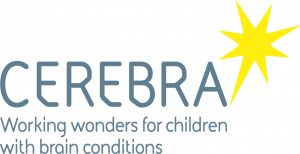 If you would like to find out more about what we do and the services we provide, please come along and visit us at stand V20 at Kidz to Adultz Middle. We'd love to meet you! Visit our website to learn more about us.