This is a guest blog written by Precision Rehab who will be exhibiting at Kidz to Adultz Venue to Virtual which will be running from 9th to 13th November 2020. Joining Precision Rehab at 11am on Thursday are Dietz Power, who will be showcasing their range of powerchairs. 
About Precision Rehab
With nearly three decades of experience in the assessment, sales and servicing of specialist powerchairs, the Precision Rehab team works closely with the client, their occupational therapist and anyone else involved in their day to day care from the first assessment through to delivery.
Some clients require a specialist seating system and Precision Rehab can achieve this through its relationships with many of the UK's leading seating manufacturers.  This combined experience and network of contacts ensures that every client receives the powerchair and seating system which meets their specific requirements.  Alternatively, should a client require their existing moulded seating, this can be incorporated onto their chair using custom interfacing.
Personalising a chair does not stop at the seating system.  From mounting communication systems and bespoke controls which can include chin and head systems there is a wide choice of adaptions which can be installed.  Precision Rehab can also help the client choose their own paint finish.  For example, a client recently took delivery of a Paravan Piccolino which had a custom finish of Bentley rose gold matt while another client requested the colour to be matched to their favourite nail polish.
"Every powerchair we supply is bespoke and I believe the chair should fit the person as opposed to the person fitting the chair" commented Precision Rehab founder Matthew James.
Case Study
Four-year-old Lily is a fantastic example of how the Precision Rehab team can provide a bespoke solution. As soon as Lily's parents saw the Piccolino powerchair they knew it was perfect for Lily as it had the seat lift, tilt in space and other features we had been looking for but during the first assessment they had concerns that the standard Piccolino seat size would be an issue as Lily is so small.  Matt immediately put their minds at rest by explaining there are various bespoke options that would work for her.  However, they would not be needed as by the time they placed their order, Paravan had developed the new smaller K110 seat and Lily would be the first child in the world to have one fitted to her chair.
"At Precision Rehab we only use trusted manufacturers and suppliers to ensure we can provide our clients with high quality reliable products and in addition to being the official supplier of the eight model Paravan range of powerchairs for the UK and Ireland, we are also proud to work with Dietz Power UK.  Their Sango range offers powerchairs for all client groups – adults, paediatric and bariatric and whether they prefer front, mid or rear wheel drive" continued Matthew.
As part of its ongoing expansion, Precision Rehab recently announced the addition of the Swedish built Eurovema range of powerchairs to its portfolio.  Designed primarily for use indoors, the range comprises of 3 models, the Miniflex Front Wheel Drive, the Flexmobil i6 Mid-Wheel Drive and the Reflex Rear Wheel Drive which are available with a choice of seat options.
To discuss the full range of powerchairs available or book an assessment please call 01256 300111, email: info@precisionrehab.co.uk or visit www.precisionrehab.co.uk
About Dietz Power
DIETZ Power was founded with one very clear goal in mind: to develop powered wheelchairs that are adaptable right down to the last detail, for people with limited mobility of any kind to use in a wide variety of living environments. In 2017, a small team of professionals joined forces, working every day (and, when needed, at night too) with relentless energy, highly focused creativity and, last but not least, the valuable know-how gained from many years of experience, to get the job done.
The result: A range of perfectly coordinated wheelchairs and high-quality individual components that can be precisely configured to fit the particular powered wheelchair required.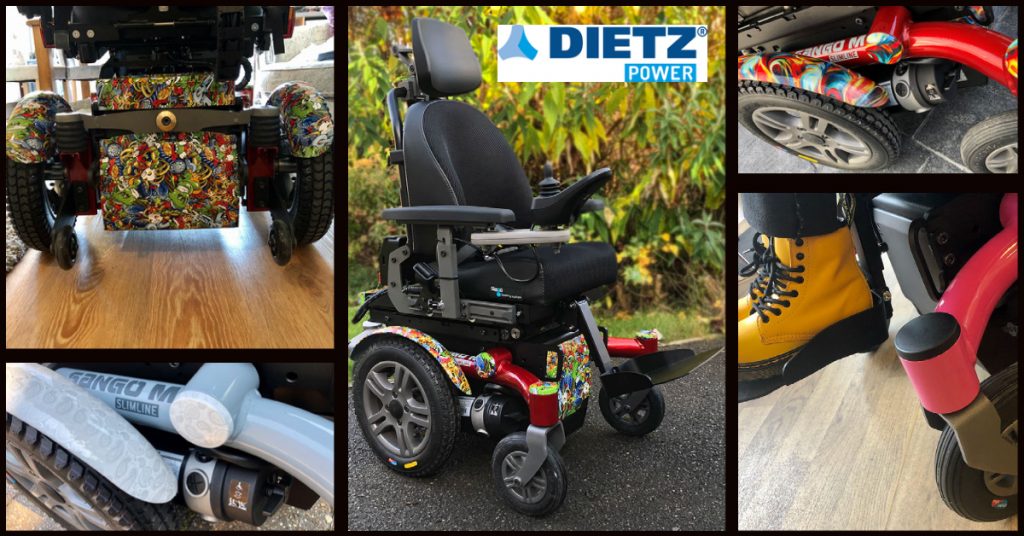 The SANGO powerchair range offers a combination of great traction and comfort for outdoor use with a compact chassis size for tighter manoeuvres when being used in indoor environments.
Being available in either mid wheel drive, rear wheel drive or front wheel drive the best chassis option can be selected depending on how and where it will be used. The rubber suspension system offers an almost silent drive and the highest level of comfort because it absorbs vibrations from general surfaces as well as larger bumps from rougher outdoor obstacles.
Fitted as standard with 4-pole high torque motors the SANGO range offers a great drive with high levels of manoeuvrability and smoothness. A range of motor speed options are available for slower indoor use or a faster drive outdoors.
60Ah batteries allow a good range of driving and, on some models in the range, 78Ah batteries can be selected as an upgrade for further extension to the range achievable.
The SANGO range has been designed to make transfers, access under tables and other furniture as well as driving into Wheelchair Accessible Vehicles (WAV's) effortless through the ultra-low seat height from 38cm (with 12" drive wheels).  If needed for driving a wheelchair accessible vehicle from the SANGO, it can be ordered with the preparation required for use with the DAHL drive system.
The SEGO seating system is fully adjustable to each individual requirement and a range of seat cushions, backrest cushions and other accessory options allow for optimal comfort and postural support to be achieved. Junior, adult and xxl sizes ensure a correct solution can be chosen.
A full range of powered options can be selected including, powered posterior seat tilt, powered seat lift, powered backrest recline, powered anterior seat tilt, powered centre mount legrest and powered individual legrests.  Several alternative control options for the user of the chair and/ or carer can be easily integrated and mounted offering a very individual and tailored solution.
If very specific requirements cannot be met by standard options, the SANGO range can be fitted with customised and bespoke items. These can be as varied as individual chassis colours, hydrodipped shroud patterns, mounting of communication devices as well as fully designed seating systems or integration of alternative suppliers bespoke seating systems.
For more information call 07539 732 718, email darrenlegg@dietz-power.com or visit www.dietz-power.com
For more information about Venue to Virtual and to register, please visit: https://www.kidzexhibitions.co.uk/venue-to-virtual/