This is a guest blog written by Samantha Walsh, a Clinical Lead Physiotherapist at Second Skin. Second Skin will be exhibiting at Venue to Virtual on Monday 1st March at 2:30pm.
Adam Sharp is a remarkable young man! Not only is he completing his final year of secondary school amid a pandemic, but he continues to chase his dream of representing Great Britain in the Para Table Tennis team.
Second Skin has been fortunate to know Adam since he was referred to our service in September 2009 at the age of five. Adam was referred following a diagnosis of a brain tumour at the age of four. He subsequently underwent two years of chemotherapy treatment, four separate neurosurgery operations and countless other procedures which resulted in a left sided hemiparesis. Since then, Adam has been seen in our neurological splinting clinic for left upper limb splinting to help optimise his functional abilities and maximise his overall independence.
Our most recent catch up was a little different than normal. Instead of focusing on Adam's left upper limb, his current function, and his splint wear programme he schooled us on table tennis, going through his table tennis journey and discussing his ultimate ambition of representing Great Britain in the Para Table Tennis team.
Para Table Tennis Champion
Adam discovered table tennis by accident when he was eight. Adam's tumour and treatment had impacted his balance and his ability to weight-bear through his left leg. As a result, his physiotherapist prescribed an exercise programme focusing on core control and left lower limb strengthening. Adam has always been a determined young lad and his mum Jos recalls "holding him up" at a friends' place so Adam could play table tennis for the first time. It proved to be the perfect activity and rehab for Adam. It encouraged him to shift his weight from foot to foot and reach outside his centre of mass helping to improve both his stability and strength.
At 13 Adam played competitively in an able-bodied team competition at St Albans Girls School. After a chance meeting with a Para Table Tennis player on holiday, his name was given to the GB Para Table Tennis coach and Adam was invited to try out for the development squad in 2019, which he made.
Pre-COVID Adam was playing table tennis daily in his school lunch break, training every week and playing competitively twice a week. He was also attending GB Para squad training in Sheffield and playing nationally. At Adam's first national Para tournament he took home a silver medal and has since won two gold medals at national level!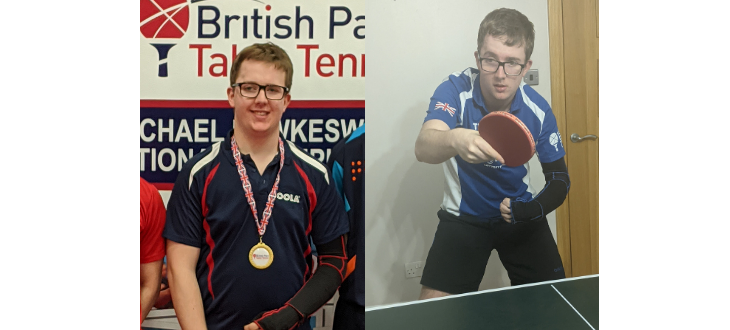 British Para Table Tennis Young Volunteer of the Year 2020
Since COVID struck Adam has kept up his skills by playing with his dad every day. He also has 'shadow play' 1-2 times per week with the GB coach. This involves Adam doing skill-based drills and agility training with his bat. He loved this form of training so much that he is now running his own weekly 'shadow play' training for his local club. This may be one of the reasons why Adam won the coveted British Para Table Tennis Young Volunteer of the Year award in 2020, which he modestly omitted from our chat! He was praised for his involvement in table tennis at all levels and for being an excellent ambassador for the para sport and disabled athletes.
During our conversation Adam explained the Para Table Tennis classifications which are based on level of disability. There are 10 classes. Classes 1-5 are for those athletes who are wheelchair users and classes 6-10 are for athletes who can stand. Adam is classified as a 7-8 but is awaiting his international assessment. This could put Adam in the same classification as his para table tennis hero, Will Bayley who has represented Team GB at both the Rio and London Paralympics.
To assist with functional ability para-athletes are permitted to wear splints and orthotics. Adam explained if you are classified whilst wearing your splints or orthotics, then this is fair game. For Adam, this means he can wear his ankle-foot-orthosis (AFO) and Second Skin upper limb splints when playing. Adam wears a Tailored Dynamic Arm Splint and a Boned Hand Splint. Both splints provide a strong dynamic compression through Adam's arm to maximise his overall sensory awareness and perception of where his left arm is in space. This makes it easier for Adam to relax his arm down by his side which is beneficial for his balance, as well as making it easier for him to actively coordinate his movement. The splints also provide a strong stretch to Adam's muscles that are susceptible to tightness due to his strong tonal patterning. This helps to maintain his range of movement and flexibility which are important in his game play.
Adam said, "my Second Skin splints help with my posture and keep me balanced, helping with my movement in my shots." Jos said without his upper limb splints his left arm "would get in his way" and by wearing his splints "his arm is more relaxed down by his side." Meanwhile his foot orthotic helps to provide him with stability through his left side, allowing him to move from side to side, hugely important for his table tennis.
Adam said his "dream is to play table tennis as a job". He explained that some players in each class get paid to play and currently there are 16 athletes funded to train with the British Para Table Tennis team. Upon completion of his A Levels (PE, Music and Business) Adam is striving to do just that.
Despite receiving offers for all the universities he applied to, Adam took up the offer to attend Grantham College, where he has been accepted into the Table Tennis Academy. The Academy is well-known for its state-of-the-art facilities and has had Team England and Team GB athletes go through its doors over the past 15 years. At the academy Adam will train 24 hours per week including games, skills, and gym work. Jos said attending Grantham "demonstrated a real commitment from all players" and given its reputation for producing top quality table tennis players it is the perfect place for the GB Para Table Tennis coaches to track his progress.
When we asked Adam what his advice would be for any budding para-athletes, his response typified his can-do attitude and demonstrated his killer work ethic. He reiterated a moto that he has coined, "love it, do it, smash it."
We have no doubt you'll smash it Adam! You're a true champion.
For more information on the services that Second Skin offer, visit: https://www.secondskin.com.au/ 
If you would like to exhibit at our next Venue to Virtual Event or are interested in learning more, please visit: https://www.kidzexhibitions.co.uk/venue-to-virtual-exhibition-slots-enquiry/