Venue to Virtual – Exhibition Slots Enquiry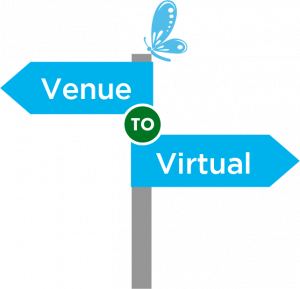 A package with Venue to Virtual includes:
Targeted mailouts to our database of over 90k+ highly targeted audience
Social Media coverage prior to, during and after the event
Exhibitor's entry in the e-Showguide that will be sent to our database of over 90k people and distributed across all of our social media platforms and website
Up to 45 minute video on your chosen timeslot – A live Q&A facility will run alongside your video and will remain live for duration of your hour slot giving participant more time to ask questions once the video is finished.
Interactive Q&A feature with your video that allows direct contact with our viewers to lead generate
PDF downloads
Social media logos
Logo featured within 'Exhibitors' section on webpage
Blog entry for viewer access
The opportunity to advertise in the e-Showguide
The cost of the package is £495+VAT (charity rates available on request)
View the Venue to Virtual Timetable
Email the Kidz to Adultz Team
Call Us On 0161 214 4592
Sending Your Files
Please send your logo, PDF files (up to 3), and video (MP4 format) to info@disabledliving.co.uk by no later than Friday 23rd October 2020. We recommend using we.transfer.com to send large files. Also, please include images of the front covers in a JPEG or PNG format.
Venue to Virtual Booking Form
Please read the Venue to Virtual exhibition timetable slots before completing your form.