This post has been written by Frank Rodgers at SpokeGuards.
SpokeGuards will be taking a stand at the upcoming Kidz to Adultz South at the Disabled Living Exhibition this month. This is being held at Farnborough International Exhibition & Conference Centre on Thursday 16th May 2019 from 9.30am to 4.30pm. Disabled Living has an enviable reputation of organising the very prestigious Kidz to Adultz events since 2001 and now holds five of the largest FREE UK exhibitions totally dedicated to children and young adults up to 25 years with disabilities and additional needs, their parents, carers and all the professionals who support and work with them.
SpokeGuards have taken stand F9 at the Disabled Living exhibition
We will be displaying various designs currently on sale on the website and will be available to discuss bespoke designs for that special occasion. Personalisation has always been a popular request and designs from single pet photographs through a collage of family photographs to simple favourite football teams have all been available. Come and talk to us!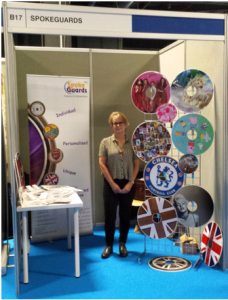 Kidz to Adultz South will have over 140 exhibitors in the hall plus up to 10 free seminars covering topics from paediatric posture seating to wellbeing for young people with complex disability and preparing for a holiday flight.
Disabled Living organises exhibitions throughout the country and throughout the calendar year. In 2019, there will be Kidz to Adultz Middle in Coventry, Kidz to Adultz South in Farnborough, Kidz to Adultz Wales and West in Bristol, Kidz to Adultz Scotland in Edinburgh and Kidz to Adultz North.
We design and manufacture spoke guards for wheel chairs. Whether you call them spoke guards, wheel trims, wheel protectors, we print your favourite image to personalise the wheel chair to make you stand out in a crowd. We have published designs to choose from, but would you like to 'Design your own'. If you would, come and see us on Stand F9 at the Disabled Living exhibition, Kidz to Adultz South.
Download your tickets
Free tickets for the exhibition can be downloaded by visiting the Kidz to Adultz South page.