This post has been written by Jon Nock on behalf of Etac R82.
Etac R82, the UK's leading specialist in Scandinavian-inspired assistive equipment, has delivered a CPD-accredited paediatric seating seminar to high numbers of healthcare professionals at Kidz to Adultz South.
Held at the Farnborough International Exhibition & Conference Centre for the first time, Kidz to Adultz South was well attended by young people with disabilities, families and professionals including Occupational Therapists. The modern and fully accessible venue provided the opportunity for a healthy number of visitors to see the latest assistive products and services from leading specialists.
Etac R82 experienced a positive and busy show and was delighted to meet a number of new individuals who had not attended a Kidz event previously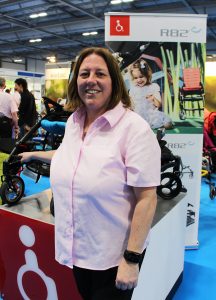 As part of the educational programme available for professionals at Kidz to Adultz South, Etac R82's latest seating seminar, 'Paediatric Postural Seating Assessment Tips', presented by respected OT, Jo McConnell, was a very popular feature with all possible audience space taken. Jo's seminar focused on motor development both in terms of milestones and the early signs of impaired movement. It reviewed posture and the need for specialist equipment for children with disabilities. Feedback from Jo's professional peers was complementary and they thanked her for delivering a rewarding and engaging presentation.
Etac R82 will be demonstrating from its extensive product range and hosting more educational seminars at:
Kidz to Adultz Wales and West, 5th July 2018, Thornbury Leisure Centre, Bristol. BS35 3JB. Stand A17.
Kidz to Adultz Wales & West takes place on Thursday 5th July in Bristol. See more information about the event here.