Abacus Specialist Bathroom Solutions, the trusted manufacturer of the Gemini and Scorpio assisted baths for bathers with disabilities, welcomed a healthy number of visitors to its exhibition stand at Kidz to Adultz South – being held in Farnborough for the first time.
Debuting at Farnborough International Exhibition & Conference Centre, Kidz South provided the opportunity for young people with disabilities, families and healthcare professionals to see the latest in assistive products and services.
This modern and accessible venue delivered a fresh experience and attracted new visitors who had not previously attended a Kidz event
They were able to discuss specialist bathing needs on a one-to-one basis with the Abacus Product Advisors who also explained the complete assessment-led service they provide. Abacus works closely with Occupational Therapists so that the most appropriate accessible bathing solutions are provided – hence comfort, safety and well-being is maximised for bathers and carers.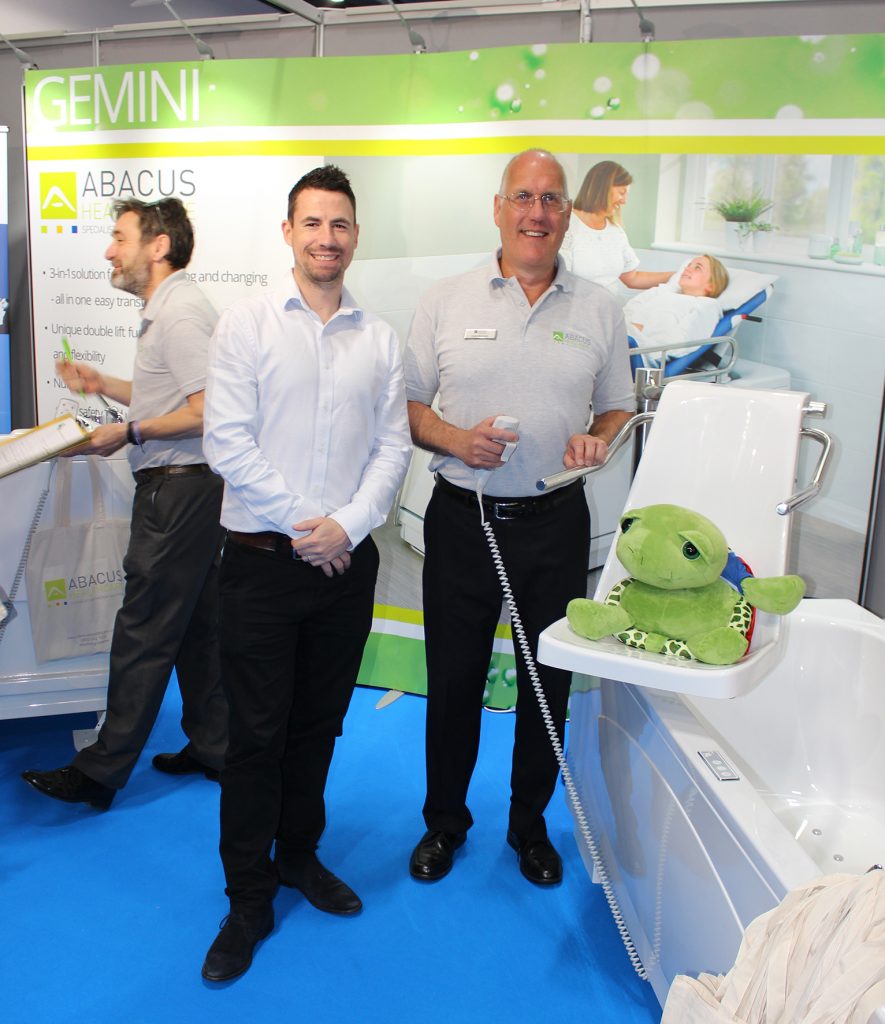 The Abacus team were busy throughout the event providing demonstrations of the power-assisted Gemini and Scorpio baths
The Gemini has a unique double lift, variable height action and integrated changing, drying and bathing platform so transfers are easier. Ideal for users with less mobility or reduced postural control, the Scorpio is a compact bathing solution with powered bather transfer seat and optional hi-lo technology. Both baths generated impressive enquiries alongside many competition entries to win Trevor the Turtle, the cuddly toy Abacus mascot, who appeared on the stand once more.
Abacus will be demonstrating next at: Kidz to Adultz Wales and West, 5th July 2018, Thornbury Leisure Centre, Bristol. BS35 3JB. Stand S6.
---
www.abacushealthcare.co.uk   #TrevorTheTurtle
Join the #BathingIsBetter conversation on Twitter and Facebook.
Kidz to Adultz Wales & West takes place on Thursday 5th July in Bristol. See more information about the event here.