This post has been written by Jon Nock on behalf of Etac R82.
Etac R82, the UK's leading specialist in Scandinavian-inspired assistive equipment for disabled children and adults, will be presenting a free-to-attend CPD-accredited seating seminar at Kidz to Adultz South.
New venue! Thursday 17th May 2018, 9.30am – 4.30pm, Farnborough International Exhibition & Conference Centre, Hall 1 (access via Gate F), Etps Rd, Farnborough. GU14 6FD.
Stand D0. Free entry and parking.
Kidz to Adultz South has moved from Reading this year and will be held at a more spacious venue with enhanced facilities. With extra capacity, more healthcare professionals, families and young people with disabilities with be able to see and experience the latest assistive products and services. As part of the renowned Kidz educational programme, Etac R82 will be presenting a CPD-accredited seminar for all OT's, Physiotherapists and Moving and Handling specialists.
Seminar room 2 – 11:30am – 12:30pm
Paediatric Postural Seating Assessment Tips
Joanne McConnell, Occupational Therapist and Etac R82 Clinical Manager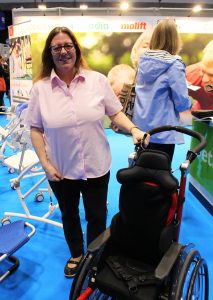 Jo is well known and respected within the industry through her 25 years of experience within paediatrics and complex disabilities. She has worked for the NHS and continues to major in posture and mobility.
Jo's seminar will focus on motor development both in terms of milestones and the early signs of impaired movement. It will review posture and the need for specialist equipment for children with disabilities. Topics presented will include specialist seating and how to assess a child with postural needs in terms of symmetry vs asymmetry alignment, hip and leg positioning. Other considerations such as posterior pelvic tilt, deformities of the spine / scoliosis, muscle tone and spasticity will also be highlighted.
On stand D0 there will be a wide ranging selection of products from Etac, R82, Immedia, Molift, Convaid and Star Cushions. Highlights will include the popular Molift Smart 150 hoist which is ideal for lightweight transportation and the R82 Stingray and Cricket buggies as well as our Convaid range which offer great choice over a wide range of needs. The new R82 Meerkat dynamic stander which promotes learning through movement will also be on stand.