Baby & More are the exclusive UK distributor for Mum 2 Mum PLUS, functional, quality feeding aprons and bandanna bibs for children and adults with SEN and Clever Grip Training Cutlery, stainless steel cutlery with contoured finger guides to aid self-feeding with less stress.
Find us at Kidz to Adultz South on Stand R8
Come and see us at Kidz to Adultz South for your chance to win £50 of FREE product for your home or setting PLUS deep discounts available across all products purchased on the day. After more than 10 years of selling to the nursery and childcare industry we are delighted to be bringing our products to the SEN market.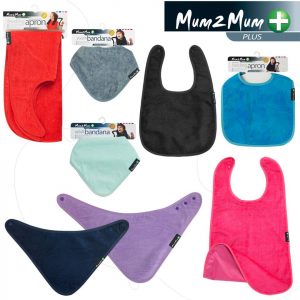 Keeping clothes clean and dry while protecting against skin irritations – Mum 2 Mum PLUS special needs bibs, feeding aprons and bandanas. Mum 2 Mum have taken their award winning infant Wonder Bib range and adapted it to the specific needs of youths and adults with special needs. The Mum 2 Mum PLUS products are functional, quality feeding aprons and bandana bibs designed to make life easier for parents and care giver. Features include; 100% super absorbent cotton towelling, waterproof nylon backing, machine washable & dryer safe, adjustable necklines to fit a large range of sizes. They're suitable for ages 5 to 95-years-old.
After 7 years of working in the nursery industry we launched our unique Clever Grip Training Cutlery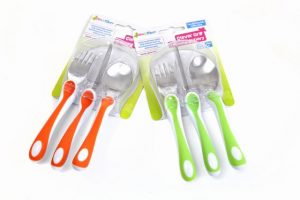 A stainless steel knife, fork and spoon cutlery set with contoured finger guides to aid your child to hold the cutlery correctly and confidently for self-feeding. The Clever Grip means less frustration for the user and less mess for you plus with a handy spoon rest to stop the spoon from sliding around the bowl. Our cutlery is designed with moulded edges for added safety. Features include; contoured finger guides to ensure correct grip, promotes self-feeding, handy spoon rest, BPA free. Suitable for ages 2 years +.
Winner of a Bronze Right Start Baby Essentials Award 2015/2016
All of our products are available for wholesale purchase or to take away on the day of the show. We currently supply retail stores, on-line stores, chemists, nurseries, pre-schools, special needs centres and carers.
If you are interested in opening a trade account, please contact us for further information.
Email: info@babyandmore.co.uk. Telephone: 0333 014 4242. Visit our website here.