This post has been written by Sirus who exhibited the Kia Soul rear wheelchair passenger vehicle at this year's Kidz to Adultz North event in Manchester. The Kia is our most popular family car, as the chair user sits in the back next to the other rear passenger, so they aren't isolated right at the back of the car, therefore it's a much more sociable way to travel. This is especially important for children who of course want to travel next to their siblings or be closer to the parents sitting the front.
Sirus celebrate our 15-year anniversary next year so we have done an awful lot of exhibitions over the years! We have seen the Kidz to Adultz brand grow over the years to what is now a very popular exhibition.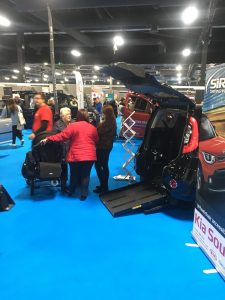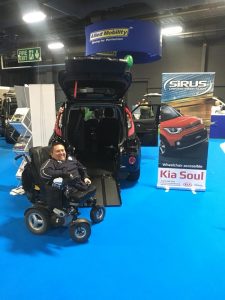 The shows are a great platform for people to come and see a range of new products and chat face to face with specialist companies. On our stand we have a team of Mobility Advisors who are highly trained to work with customers and find the best option for each individual. As we know, no two people are the same, hence why we create bespoke solutions in our workshop based in the Midlands.
The free accredited seminars are also great for healthcare professionals
We work with many different OT's and Case Managers so again it is great to get everyone in one place to talk through our products. Not only do we convert the Kia for wheelchair passengers, Sirus convert cars for wheelchair users who want to drive or travel up front next to the driver. We focus on product innovation which gives disabled people freedom and independence, and its great to know we have the right platform in the Kidz to Adults shows to exhibit our cars.
Kidz to Adultz North was very busy, we chatted to lots of people, some people were already in a Motability contract but loved the vehicle, and we saw many healthcare professionals who were interested in the car for their clients / patients. A very busy show and well organised, and a really enjoyable experience.
Written by Vicky Crees at Sirus Automotive
Facebook @SirusAutomotive
Twitter @sirusautomotive
Instagram @sirus_automotive
Website www.sirusautomotive.co.uk