Disabled Living continue to celebrate providing services for 120 years. At Disabled Living's Kidz to Adultz North event on Thursday 16th November, Ontex were delighted to provide support by sponsoring the Activity Area. This area offered the opportunity to provide activities and displays which were linked to our heritage. Ontex are an innovative company and welcomed the opportunity to be linked to a charity whose Heritage Lottery Funded project is named From Donkey's to Innovators.
New product launch
This event provided Ontex with an opportunity to display information on a new product for children which will be launched in 2018. Ontex, an international company known for providing products for personal hygiene, which cater for babies, children, and adults, will introduce iD Comfy Junior, a new generation of super adsorbent underwear and protective slip.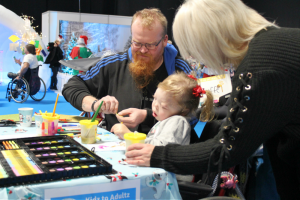 What makes Ontex different?
We work with our customers according to their needs, focusing on performance and safety. – Annick De Poorter, Group R&D, Quality and Sustainability Director. View source here.
Sponsoring the kids activity area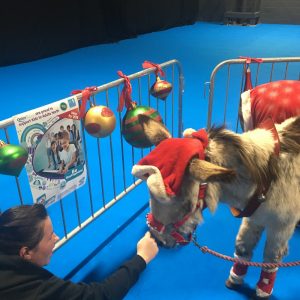 The Activity Area at Kidz to Adultz North at Event City was extremely busy as the children and their parents flocked to see the donkeys in the Donkey's Den (the charity was originally formed to encourage children to be kind to donkeys), the Children's Christmas Card Competition (in our archives we have a large number of organisational Christmas cards dating back to 1897. The winning design will be Disabled Living's Christmas card for 2017).
From the early 1900's the charity gave out Christmas Hamper's to disabled children, so in an attempt to re-create this element of our heritage, the winner of the Christmas Card competition will receive a hamper of goodies! As any organisation knows, time does not stand still and we encouraged the children to come along to the Disabled Living Innovation Hub and tell us about their ideas for equipment for the future.
The children filled the Innovation Tree with ideas

This Activity area and the activities sponsored by Ontex brought a smile to many faces. While the children were busy with the activities, it provided the Disabled Living team to highlight the iD Comfy Junior and introduce them to Ontex and the resources available on the Ontex stand.
---
We would like to thank Ontex for their amazing support during Kidz to Adultz North this year and helping to make it the spectacular event that it was. If you would like to learn more about Ontex please visit their website.