Sheffield-based postural support specialist, Jiraffe, has announced the launch of two new standing products and accessories which will transform the lives of children across the UK.
Supine Stander 3
The Supine Stander 3 by Jenx is a strong, yet comfortable and easy-to-use standing system. It will provide unmatched support and safety for the user when standing in a supine position and is most beneficial for children aged six years upwards and weighing up to 100kg.
The new standing product has been designed to meet the needs of children with even the most complex postural circumstances. The Stander contains firm support aids to help ensure correct positioning whilst innovative straps will help the child stay perfectly aligned.
There are plenty of leg-control options to make sure the child is comfortable and safe, and the easy-to-clean support surface also ensures the system can be used safely by multiple users.
Jiraffe offers a wide range of standing products designed for children with postural difficulties. But what is it that sets the Supine Stander 3 apart from its predecessors?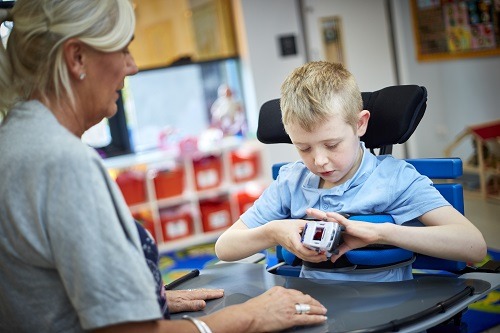 Key features of the Supine Stander 3
Split Column: The Supine Stander 3 provides the caregiver with the opportunity to remove the top two board sections – which allows a more discreet support surface whilst offering great growth potential by reconnecting the boards as the child grows.
Head Support: The option to remove the top two boards also allows some additional headrest fitting options for the Multigrip™ Head Support. This will allow for a more accurate headrest that can be adjusted to cushion, support and control the child.
Knee Support Pads: Available in a range of sizes and complete with knee straps, the Knee Support Pads remove the possibility of any knee rotation, along with providing effective movement of the knee to replicate a neutral standing position. Flexion Control Pads can also be added if necessary.
Control Box: As an additional safety measure, the new control box can adjust the angle by being connected to the mains power supply as a fail-safe if the battery has run out.
De-rotational Thoracic and Pelvic Straps with Lateral Support Pads: These straps fasten in the centre and adjust independently from either side, which enables a mid-line position to be achieved and maintained. The buckles mean that once adapted correctly, the straps can be fixed.
 Improved Battery Functions: When the battery level reaches 20% and someone attempts to adjust the standing angle with the hand control, the carer will hear a loud warning. The angle of the stander will either stay as it is or return to a horizontal position until the battery is put on charge; this safety feature ensures the user will not remain in an upright position.
The handset also includes a '4 LED' battery level indicator to display the battery charge level. To learn more about the Supine Stander 3 by Jenx, give the Jiraffe team a call on 0114 285 3376.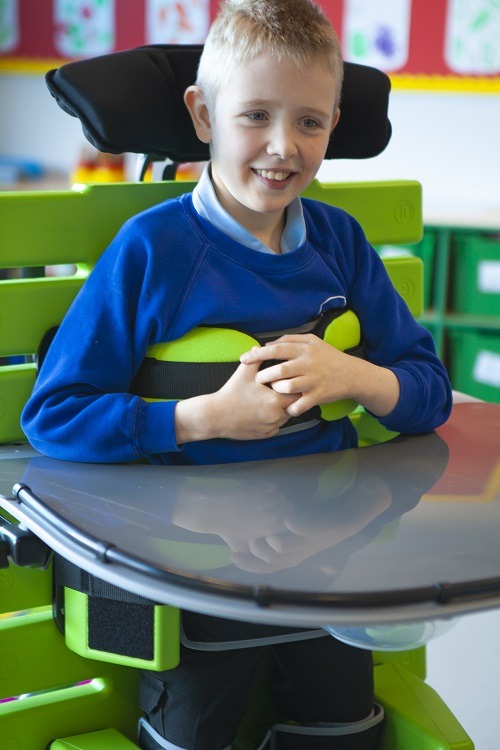 Multistander with Abduction
Jiraffe has also launched the Multistander with abduction, which enables the user to stand in several upright positions and allows for 'peer height interaction'.
The accessory accompanies the Jenx Multistander, which is suitable for children from nine months to six years. The Multistander provides high-level postural support in upright, prone or supine positions, whilst also promoting a neutral or abducted standing posture.
The abductor accessory, which can be fitted to future or existing size one Multistanders manufactured after July 2015, offers 0-30 degrees of individual leg abduction in five degree increments, and features a tool-free abduction mechanism, allowing simple adjustments to the leg position of the user with minimal effort.
The abduction accessory is proven to help improve a child's outlook on the world. Standing improves blood pressure and circulation, helps digestion, encourages muscle development, provides opportunities to increase social skills and much more.
For more information on the Jenx Multistander with Abduction, visit https://www.jiraffe.org.uk/products/standing/multistander/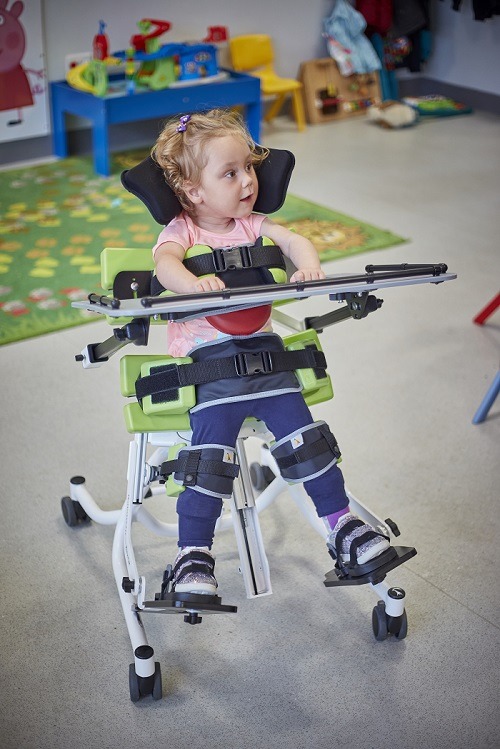 CPD Seminar
Richard Harvey, National Clinical Training Manager at Jiraffe is set to host a free CPD seminar at Kidz to Adultz Middle on Wednesday 4th March 2020 named Assessing for Seating: Implications within a 24Hour Postural Management Plan aimed a caregivers and OTs.
The aim of this seminar is to gain and develop an understanding of the importance of 24-hour postural management and how seating fits in to this programme. The seminar will also highlight the internal and external factors that affect a person's posture, including applied forces to the body and how detrimental this can be.
Richard will also cover the importance of early intervention to gain a better outcome for a child with neuro-disabilities, and how to undertake a postural assessment for seating; tips on how to accurately assess the needs of your client and how to get the best out of your seating system.
Jiraffe will be on Stand D4 at the event, showcasing the new standing frames, alongside a range of seating and mobility systems.
About Jenx Ltd – a family run company
Jenx Ltd, with headquarters in Hillsborough, Sheffield, is a family run company which was founded by a paediatric physiotherapist and a product designer in 1982, with the aim of enriching lives and changing perceptions about disability.
Ever since, it has been researching, designing and manufacturing ground-breaking developmental postural equipment to support children with specific postural needs since 1982. Jiraffe, Jenx Ltd's UK distribution division, has been distributing Jenx and Rifton products in the UK since 2014, continuing a special partnership with US-based Rifton which began in 2005.
Learn more on Jenx Ltd online at https://www.jenx.com/about-jenx/ and find out more about Jiraffe at https://www.jiraffe.org.uk/.