Founded in 1997, Tomcat SNI, winner of the Queen's Award for Enterprise, designs and manufactures custom-built trikes and high quality assistive technology for children and adults. With its open and friendly style of doing business, the company prides itself on its reputation for quality, on-going innovation, customer service and its willingness to tackle difficult challenges. 
Bob Griffin, founder and Managing Director, has given the special needs cycling industry such innovations as Carer Control, Trailer Trike, Swivel Saddle to name but a few. Many of these innovations have become industry standards throughout the world, but to this day, Tomcat remain the only mainstream trike manufacturer to custom build tricycles to its very unique riders, unique requirements.
Tomcats products are entirely British made, and along the way, the company is proud to have won many European technology grants and industry awards, including the prestigious Queens Award for Innovation.
About Simon Stevens
Simon is a leading independent dysability and inclusion consultant, researcher, trainer, and activist, based in Coventry (UK) with vast experience and expertise in a wide range of fields including dysability issues, independent living, health policy, social care, lifestyle advocacy, employing personal assistants and Secondlife.
43 year old Simon Stevens is an activist and independent disability and inclusion issues professional. Born with Cerebral Palsy which affects his speech, balance and hand control, Simon successfully completed the 7km HSBC UK City Ride in Coventry earlier in September, in a bid to kick start his journey to managing his mental well-being.
Simon has worked with many organisations of all types since 1990 nationally and internationally and he is also the founder of Wheelies, the world's first dysability themed virtual nightclub, and star of Channel 4's dysability prank show, 'I'm Spazticus' as well as being a highly respected blogger.
Simon has earned his place as one of the top 10 most influential people in the West Midlands, due to his expert knowledge of disability legislation and his efforts to champion the cause of disability rights.
There is little encouragement for middle aged disabled people to keep fit, despite the potentially positive impact that greater fitness may have on health service resources. There seems to be an acceptance that we are condemned to a poor quality of life, but with a little help that need not be the case.
He believes that public health and well-being initiatives are generally not inclusive of people with higher support needs, so individuals like him need to look for alternatives elsewhere. Which is why Simon chose to get involved with a scheme called 'Let's Ride' – organised and managed by British Cycling.
These cycling events are run in big cities across the country to encourage more people to cycle. Simon's 'vehicle' of choice was The Tomcat Bullet – a new and innovative low sitting trike suitable for teenagers and adults, designed and manufactured by Tomcat based in Gloucestershire.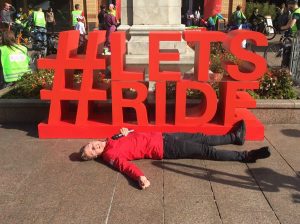 He remarks, "The ride went very well indeed, in all aspects. I was able to ride the course twice! It definitely made be feel great so it's been a real success. My muscles did ache afterwards and it took me a while to recover, however, I'm hoping this will be the first of many bike rides for me!"
The Tomcat Bullet range of Low Sitting adult trikes is the greatest advance in leisure and special needs mobility cycling in 20 years. There are five models to suit every need, from pure sport and leisure, through to severe learning and mobility difficulties.
Chief engineer, Bob Griffin explains,
We believe that there is a big hole in the provision of safe cycling for adults with various impairments, particularly when supervision or carer support is required, but there are ways we can overcome this problem. Whether the concern is a simple balance issue or a profound physical or learning difficulty, we have drawn upon our expertise with children's cycling to develop practical solutions for adults too. In this way, we hope to enhance and prolong independence for the more able and bring new independence and freedom to the less able. Kidz to Adultz North in Manchester is the perfect event to launch the Tomcat Bullet, so come and see us at Stand C31.
The Queen's Awards for Enterprise Innovation
Simon concludes that, "The lack of support from services obliges individuals such as myself to try and self fund or hunt down alternatives if we are to maintain a better quality of life. Completing the HSBC UK City Let's Ride event has certainly set the wheels in motion for me to work towards a healthier lifestyle and kick start my mental well-being."
---
For further information about the Tomcat bullet visit:
This page and come and visit us on stand C31 at Kidz to Adultz North, where The Tomcat Bullet will be available for you to ride on! You can also follow Tomcat on Twitter, Facebook, and LinkedIn.