In this instalment of our 'Meet the Team' series, we have Carmel, Senior Manager, and Billy, Business Administrator, from our Kidz to Adultz Exhibitions team…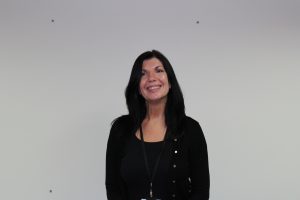 Carmel joined the Disabled Living team as a part-time receptionist 21 years ago alongside her computing and accounting studies when her children were still at school! Her next role was in our Finance department, and her first Kidz event was in 2004, when we still only ran one exhibition, based in Bolton. She has seen the Kidz to Adultz exhibitions grow and grow since then!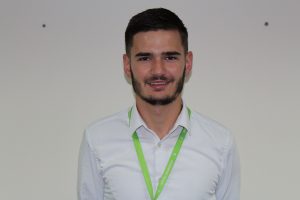 Billy joined the team in April 2014 as a Business Administration apprentice, and he is now our Business Administrator/IT Support. Before he came to us at Disabled Living he gained some experience planning VIP events in a role at Old Trafford.
When I'm not working you can find me…
Carmel: Relaxing spending quality time with family and friends, having a nice meal or chilled glass of wine… enjoying nice walks in the country side or along a lovely beach… heaven.
Billy: On a cricket pitch, football pitch or watching my brother who plays for Huddersfield Town.
If the kettle is boiling, I'll have…
Carmel: A nice cup of coffee or fruit tea.
Billy: Possibly a hot chocolate, but I much prefer ice coffees.
The best place I've ever been is…
Carmel: Probably New York, I have spent lots of time in Southern Ireland which is stunning and has some beautiful scenery and breath taking secluded beaches. I have also been to lots of lovely places in this country; I think the Cotswolds, Broadway and Bourton on the Water are my favourite so far. There's a lot more of the UK I would like to see!
Billy: I'm just going to say the Lake District love the place as an overall and try and go up whenever I can.
My favourite part of my job is…
Carmel: Working on the Kidz to Adultz Events without a doubt! Meeting all the lovely children and families who attend and of course the professionals who support them. It's overwhelming hearing all the feedback about how these events have helped children and young adults with disabilities and additional needs (and their parents and carers) live a much happier and more independent life. It's such a rewarding job!
Billy: Being a part of a very organised team helping to provide our Kidz to Adultz exhibitions, which are five of the largest, free UK exhibitions totally dedicated to children and young adults with disabilities and additional needs. Seeing the children and young adults with smiles on their faces and seeing their parents, carers and professionals who work with them get all the information and support they need in one place.
What's one thing you have always wanted to do, but have never done?
Carmel: Mmm probably a 'race for life' or something along that line…. I need to get training!
Billy: Swim with sharks and go to New Zealand and go see family who live over there.
Whose brain would you like to have?
Carmel: Mmm that's a difficult one, there are so many people I truly admire and would love to dip into their brains and see what goes on in their minds. For now I think I'm happy to keep my own, it still works OK – most of the time!
Billy: Bill Gates – co-founded Microsoft, which is the world's largest PC software company and he does so much to help charities.