This post has been written by Simon Fielden, Director at Rahana Life.
Rahana Life is a new company dedicated to bringing the very best assistive technology to the UK, with a focus on equipment to increase the independence of children and young adults who have limited arm and hand function. It is crucial the technology is matched to the needs of the user and Rahana Life places as much importance on effective assessment as it places on excellent technology and the support that goes with it.
Rahana is a Sanskrit word that means live; we want to provide assistive technology that allows people to achieve their goals and be as independent as they can be and live life! Rahana Life!
The Jaco Robotic Arm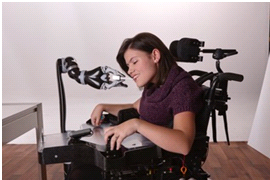 Jaco is a personal robot designed to be used by people with very little or no hand function. Jaco can assist with many tasks and daily activities. Jaco is fitted to the side of an electric wheelchair  and is operated by the user's wheelchair control. The Jaco was developed by Kinova in  Montreal, Canada and has users across the world.
Rahana Life will be showcasing a new platform for the Jaco, allowing wheelchair users a realistic experience of the Jaco and what is can do for them.
The Obi Robotic Dining Companion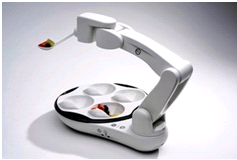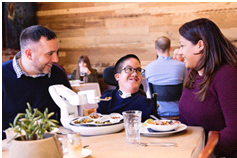 The Obi is a simple to set up and operate robotic feeding device that promotes independence and control over a user's mealtime.  Obi is portable and is operated by the user using one or two switches. Obis set up is fast and user friendly; all those attending the show are invited to come and experience Obi,  you never know there could be a chocolate or two in it for you!
Armon Edero Arm Supports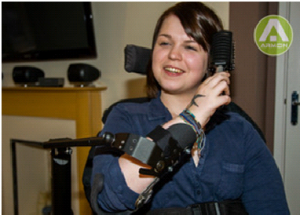 Rahana Life are very pleased to announce that they will be showcasing the Armon range of Mobile Arm Supports at stand F24.  Arm supports allow users with weak muscles to support and position their arms to undertake everyday tasks such as eating, drinking,  computer use, brushing their teeth and itching their nose! Rahana Life will be showcasing the Armon Edero, an arm support that fits to a table top or a wheelchair. Visitors will be able to try the arm supports and experience the possibilities this technology can offer.
Find out more about Rahana Life
To find out more about these products visit www.rahanalife.co.uk  or Facebook Rahana Life @rahahanlifeUK, email enquiries@rahanalife.co.uk
Come and see us at Kidz to Adultz South, Thursday 16th May 2019, stand F24.