9.00am – 4.30pm Thursday, 5th July 2018 – Thornbury Leisure Centre, Bristol BS35 3JB
Disabled Living (a registered charity) has a very proud history going back more than 120 years of supporting people with disabilities and additional needs through many of our free services, help lines, assessments, training courses and more. As part of our work we also organise the very prestigious portfolio of Kidz to Adultz Events which were established in 2001. These are free to attend events totally dedicated to children and young adults up to the age of 25 years with disabilities and additional needs, their parents carers and all the professionals who support them.
We are absolutely delighted to bring this FREE event to  Bristol for the first time!
Following on from the success of Kidz to Adultz events in other locations across the UK (Manchester, Farnborough, Coventry and Edinburgh) and feedback from our visitors to make these event more accessible to others, particularly those from South Gloucestershire, South Wales, and further afield (Cornwall, Devon and the South West Coast), we are absolutely delighted to be holding this event at Thornbury Leisure Centre in Bristol for the first time!
A must attend event for individuals with disabilities and additional needs, their parents, carers and families and all the professionals who support them.
Exhibitors and seminars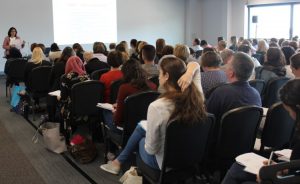 With 80+ exhibitors, a large number of whom are regulars to our Kidz to Adultz events and also many of which are new, the event promises to be a one stop shop for access to the most up to date advice and information on equipment, products and services, including advice on alternative funding streams and much more. Specialist equipment and product advisers will be on hand with expert advice on seating, bathing, moving and handling, continence issues and products, sleep systems and issues, holidays, flying with a disability, education, and much more. You can view the full list of exhibitors here.
Boost your CPD by attending one or more of the FREE CPD seminars running alongside the exhibition – sponsored by Treloars.
A full programme of free to attend CPD accredited seminars will run alongside the exhibition. Seminars are presentations on really hot topics such as:
How to use the law to improve equipment provision
How to assess for in-bed management systems
Managing continence in schools
Practical strategies to support better sleep
Preparing for adulthood – the leaner journey
Your guide to flying with a disability
You can view more detailed information and time slots for each seminar on our website. The expert speakers will be on hand throughout the day on their allocated stands.
Competitions and prizes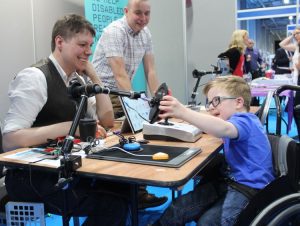 There will be a number of free competitions running throughout the day with your chance to win one of many prizes! And why not visit our Innovation Hub in association with Remap on stand F4 – we really want to hear your ideas on equipment for the future.
Finally, these events would not be possible without the support of all our exhibitors and our seminar sponsor's, Treloars. A huge thank you must also go to Jigsaw Thornbury and The Rotary Club Thornbury for all their pre-event advice, support and sharing information to all those who would benefit from attending and for very kindly assisting on the day.
For your chance to win a £200 voucher simply register online for your visitor's free entry ticket or come along and register at the event on the day. We do hope you will join us.
Carmel and the Kidz Team at Disabled Living. Tel: 0161 214 4592. Email: info@disabledliving.co.uk