Theraposture, the leading specialist for tailor-made adjustable beds, chairs and care cots, will be showcasing its considered approach to parents and disabled children at Kidz to Adultz Scotland. The event takes place on 14 September and Theraposture will be at stand D5 at the Royal Highland Centre, Edinburgh, EH28 8NB.
Theraposture has been the considered choice since 1981. It provides quality assistive products with exceptional long term value backed up by impeccable and ethical support. Its Trusted Assessors work closely with OTs and families so that the most appropriate sleeping solution is supplied every time – ensuring independence, safety and well-being is always maximised.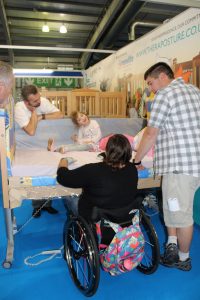 At Kidz Scotland, Theraposture will be demonstrating a selection of products from its proven range including the power-assisted Mascot cot, Theracare Low bed and bespoke Hannah cot with 120cm high sides. Individually handcrafted each product can include height adjustment so carers can operate at safe working heights and platform profiling for greater postural support. Cots are available with a vast range of colourful door designs and precisely fitting safety padding.
The height adjustable Mascot is the only fully future-proofed cot which can be adapted if needs change. Through a flexible modular design it negates the need to purchase a new cot in the future and is a life-long solution. The Theracare Low is ideal for users who are prone to falling out of bed as the mattress can be positioned just above floor level.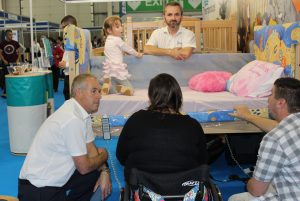 For more active and larger users the Hannah offers increased safety with multiple door heights up to 170cm. Each solution provides personalised comfort without feeling enclosed or restricted. The needs and preferences of users is always foremost during the Theraposture assessment process so the well-being of every child is protected. Its 14-day Suitability Guarantee reinforces this commitment.
Liam explains:
Our user-centric approach will be reiterated at Kidz Scotland. We believe the needs and wants of young users should come first and in our experience disabled children are happier in a Theraposture assistive cot or bed.

Parents and OTs also have greater peace of mind which is why our latest educational content aims to empower families and therapists so statutory cot funding is easier. Our #MySafePlace social media activity, recent paediatric case studies and cot funding guide all provide vital information.

Through evidence-based content parents and children can make a more informed decision. We welcome all professional and consumer visitors at Kidz Scotland to visit stand D5 for our free advice guides and to enjoy our free chocolates!