This is a guest blog by TBC Conversions who will be exhibiting at Kidz to Adultz Middle on Wednesday 17th March 2022 in Coventry.
We are so excited to be attending our first live mobility event of 2022 at Kidz to Adultz Middle, thanks to Disabled Living. After a tough few years, we couldn't be more thrilled to see our customers, peers, and colleagues again face-to-face in a safe and happy setting.
Come and say hello 
One thing we really look forward to at Kidz to Adultz Events is being able to see our customers with their families, in a relaxed and welcoming environment. Join us on Stand CZ1 and CZ8 in the Ericsson Exhibition Hall, where our team will be waiting to demonstrate the latest wheelchair accessible Volkswagen Caddy 5, and the luxurious Volkswagen Caravelle Executive.
Come along with your families, to find out how our WAV conversions make wheelchair travel hassle- free, easy, and enjoyable for everyone.
A wheelchair accessible car built for families
The Volkswagen Caddy 5 is the latest addition to the WAVs for sale from TBC Conversions, ideal for families with travel mobility needs and available on the Motability Scheme.
As always, passenger comfort is at the top of our list, which means in the Volkswagen Caddy 5 WAV from TBC Conversions, passengers are guaranteed a warmer, quieter ride thanks to the exclusive continuous rear door seal.
Getting in and out of the Caddy couldn't be easier too. The lightweight rear folding ramp can be lifted with just one finger (honest, come and have a go), but is also strong enough to hold up to 350kg, perfect for power wheelchairs and anyone assisting entry and exit from the car.
The Volkswagen Caddy 5 WAV will be open to anyone to have a look around, so don't hesitate to stop by and check it out!
A little luxury on the road
Wheelchair accessible cars don't need to be boring, in fact we believe quite the opposite. Our vehicles are converted with intelligence, empathy and care, so you get the most out of your WAV during your lease or ownership.
The Volkswagen Caravelle Executive really does stand out as an exceptional WAV, with all the creature comforts you could want. Stunning interiors and excellent entertainment technology gives every passenger and driver a comfortable and enjoyable ride.
We're ready to convert a bespoke luxury WAV just for you, with Volkswagen Caravelle Executives in stock and ready to go. What's more, we offer something no other converters can, for those of you who sit taller in your chair.
In order to increase head room and ease entry, our expert conversions team specially engineered the rear entry and interior space of the Volkswagen Caravelle Executive.
It is this simple adaption designed and developed by TBC Conversions that makes a real difference to wheelchair users who sit that little bit taller in their chair.
That's not all
As a family, we know that travel is an important freedom, it's not just road-trips and holidays to consider, but day-to-day travel as well. Smaller journeys like nipping to the shops, doing the school run, attending appointments, or visiting family can all be made easier with a WAV.
With simple access for wheelchair passengers, plus adjustable seating layouts for other seated passengers, there's enough room for everyone in a WAV from TBC Conversions.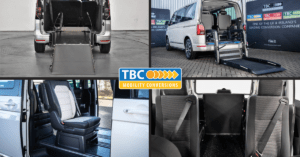 We offer flexible seating plans to bring all passengers closer together on their journeys. Second-row seating can be completely removed so that wheelchair passengers can see more and chat easily with the other people in the car.
Flexible seating layouts in the Volkswagen Caddy 5 WAV can also help families whose wheelchair users have additional care needs. Our conversions can provide a gap in the second-row seating. This makes it much easier and quicker to reach the person travelling in the wheelchair to offer immediate attention and care.
Let us know how you prefer to travel, what your needs are and any challenges you face with your current vehicle. Once we've gotten to know a bit about you, we can work on building a bespoke conversion plan that will make day-to-day travel accessible and simple for you.
Don't take our word for it
Bring everyone over to see us and discover exactly how a WAV from TBC Conversions will benefit you, your family, and your lifestyle.
Get in the driver's seat, look around the inside, test the ramp or lifts and ask us all the questions you want. We are happy to help with anything we can. Even if you are not in the market, maybe you know someone who is.
Come and check out how TBC Conversions work to help keep people on the road in comfort, safety, and style.
We'll see you soon!
Website: www.mobility.tbcconversions.com