Seenin designs specialist clothing and accessories for children and adults with additional needs. We are excited to announce that we will be launching our NEW classic kerchief designs at this year's Kidz to Adultz Middle exhibition. Available in several new patterns, the kerchiefs are breathable and have a waterproof backing. With a selection of sizes and neck fastenings to choose from, you'll find the most comfortable fit for your clothing protection. Come along and see all our new items and bestsellers on stand G4.
A wide range of stylish clothing and accessories
We offer a wide range of stylish and practical products including bibs, kerchiefs, aprons, sleepwear, wheelchair covers, changing mats and much more. Seenin is driven by a passion for finding comfortable and stylish clothing for special needs. Working with parents and carers, we provide quality items that provide solutions to everyday problems.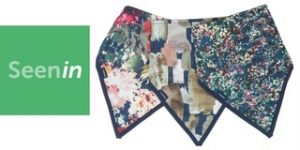 Seenin finds its inspiration close to home. Founded and run by the mum of a special needs child, we understand how challenging it is to find clothing that accommodates various disability needs. Our products are designed to be easy to fit and comfortable to wear. Along with our excellent customer service team, Seenin will be your first choice for specialist clothing.
We look forward to seeing you at Kidz to Adultz Middle
To view our full range of products please visit our website.