Glasgow based publishers, 2A Publishing Ltd, are excited to be attending the Kidz to Adultz North. Visit stand E5 where you can pick up your free copies and take advantage of exclusive subscription offers to both PosAbility Magazine and The OT Magazine.
PosAbility Magazine is a fresh, innovative magazine that focuses on opportunities available to disabled people today. Covering a wide variety of topics from accessible holiday ideas, days out for the family, health and fitness, employment and education, all the latest products, exclusive competitions, exciting features and much more. The bi-monthly publication is available on a subscription basis at £15 for one year and £25 for two. Motoring with PosAbility is an annual supplement available to subscribers of PosAbility, advising on all things vehicular with a large variety of car reviews and interesting motoring articles to guide disabled drivers.
At Kidz to Adultz North PosAbility Magazine is offering an exclusive six-month free subscription if you sign up on the day.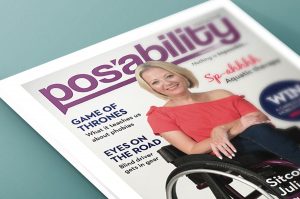 Also available for pick up at stand E5 is OnTrack Magazine, the free to subscribe to bi-monthly publication and guide to sport for people of all ages and abilities, filling a niche in the marketplace as the only print disability sports magazine in the UK. OnTrack Magazine believes that sports should be accessible to all and aims to bring readers an insight into the world of accessible sport from grass roots to the podium.
For healthcare professionals attending, pick up your free copy and take advantage of discounted prices to all membership packages of The OT Magazine.
The OT Magazine is your CPD accredited publication for occupational therapists featuring interviews with OTs working in different areas, information on relevant events, columns, personal stories, latest products and more. Depending on which subscription best suits your needs, you could also gain access to The OT Magazine supplement, CPD Life. CPD Life is all you need for continuing professional development with entertaining features on CPD, upcoming methods of learning and information on CPD opportunities and events across the UK. Exclusive offers to membership packages at the show start from £9.99 a year instead of £14.99 a year!
For advertising, editorial or general enquiries visit Stand E45 AT Kidz to Adultz North or call 0141 465 2960 or email enquiries@2apublishing.co.uk.