This inspirational story explores the life of a boy named Darren who has a rare chromosome disorder called Phelan McDermid Syndrome (PMS). He's non verbal, double incontinent and has poor balance and global development delay. Other signs of the condition include: epilepsy and symptoms of Autism Spectrum Disorder (ASD). We spoke with Darren's mum about her son's interests and personality. 
What are Darren's hobbies?
Darren is a happy smiley boy who loves to be outside. He enjoys watching rugby especially if his big brother Mark is playing or refereeing. He also enjoys horse riding for the disabled and swimming.
What inspires you the most about Darren?
Darren never fails to amaze us as he just gets on with his life. He always has a beautiful smile on his face no matter how difficult or frustrating things are.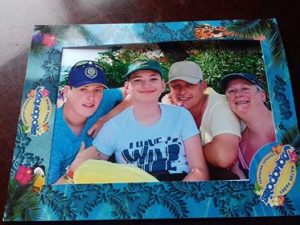 Darren is a very happy smiley friendly boy.
How has attending our Kidz to Adultz exhibitions helped Darren and your family?
We first found out about the Kidz to Adultz exhibitions through friends attending the Manchester event. The events are great at finding out who provides what you're looking for help with finances, incontinence, furniture, holidays etc it can all be found at one of the events. It's also a great opportunity to meet other parents. You always bump into someone willing to talk and give you advice/support.
Darren has never actually been to an event. We always go alone find it better to get the info we need. We found some fabulous sensory toys which were reasonably priced that made great presents.
Do you have any advice for any other parents who have a child with Phelan McDermid Syndrome?
If you have a child with Phelan McDermid Syndrome, join the registry and the PMSF UK page on Facebook. My best piece of advice is to remember you're not alone. We are a family and are here to help and support you as best as we can.