Come and visit Newlife the Charity for Disabled Children at stand G13 to find out more about what we are doing to change the lives of disabled and terminally ill children throughout the UK.
Every parent wants the best for their child; every health professional wants to help provide the best possible equipment they can – at Newlife we eat, sleep and breathe this philosophy. The UK now has more disabled children than ever before and without Newlife thousands would simply go without the equipment they need. More and more families and caring health professionals are having to turn to Newlife because local statutory services haven't got the resources.
Newlife offers a range of equipment services to disabled children and their families and it all starts with our Newlife Nurses. They guide families and professionals through the simple application process to our Emergency Equipment loans, Equipment Grants, Play Therapy Pods loans that encourage play and development, Comfort Capsules for terminally ill children to create precious memories, and the charity's innovative equipment recycling service – Newlifeable.
Always looking for new ways to make a change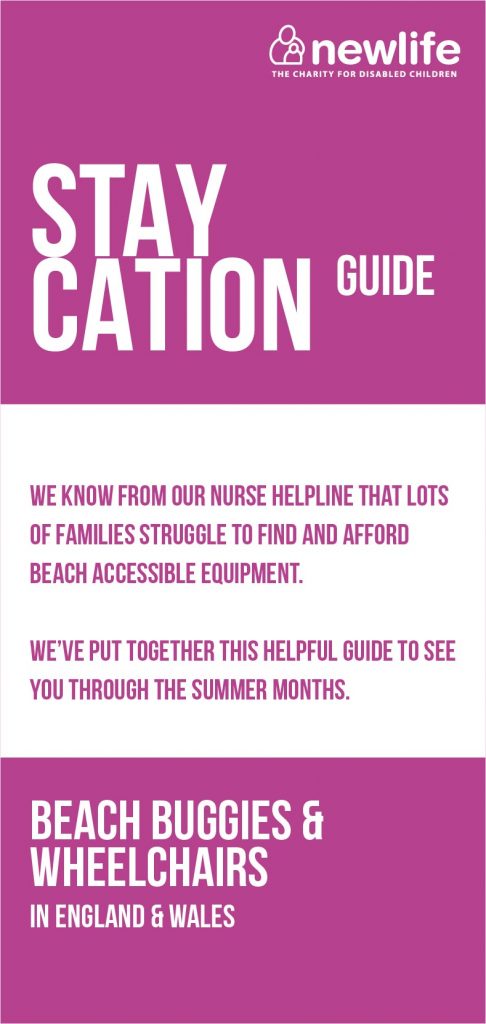 Newlife is constantly looking for new ways to change the lives of disabled children and their families. For instance, we know that the idea of a trip to the seaside might seem about as possible as a trip to the moon – but if we can help just a little bit, we will. So Newlife has compiled the Staycation Guide, offering families information and tips as to how they can get access to beach buggies and wheelchairs throughout the UK, information on transport, theme parks, funding, toilet access and much more. You can read our Staycation Guide here.
Newlife is always looking for new and innovative ways to raise money – whether that's by selling goods donated by High Street retailers and manufacturers in one of our six retail outlets, organising fundraising events, taking part in marathons or joining in with social media campaigns. We are currently hoping to win £25,000 through the One Family Foundation's Community Awards. This would allow us to buy a suite of specialist P-Pod seats that provide comfortable and supportive seating for children with disabilities. You can vote for Newlife by clicking here.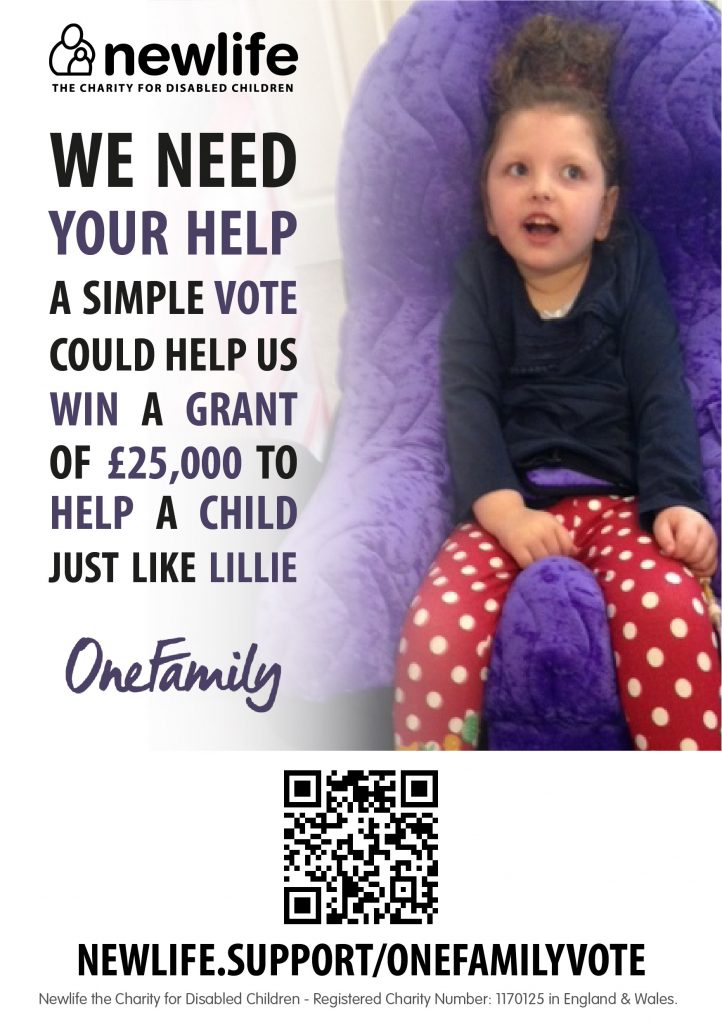 Newlife welcome volunteers
We welcome volunteers to help with fundraising activities to complement the income from our successful business. If you think you could help please visit our volunteering page to find out how you can get involved.
One of the wonderful things about Newlife is that you can specify a particular county where you would like your fundraising to be spent and 100% of everything fundraised or donated goes towards helping a disabled or terminally ill child in the UK. Nothing is taken out to pay for incidentals like administration or the electricity bill – our own business takes care of that!
Aside from providing desperately needed equipment, Newlife also works the local and national government to give disabled children and their families a voice. Where possible, we work closely with local services, intervening on families' behalf to ensure disabled children get the equipment that they are entitled to. Our Campaigns department also works with local and national decision makers and has been successful in changing the law to potentially benefit 1.2 million wheelchair users in the UK.
Campaigning for change
Newlife is also currently campaigning for a change in the law that would see car seats included in the list of essential equipment for children with disabilities, as well as an extension to the mobility element of the Disability Living Allowance to families of terminally ill children under the age of three to help meet travel costs.
Newlife is passionate about medical research and strongly believes that the research of today is the treatment of tomorrow. We have invested more than £16 million in over 300 individual medical research projects at more than 80 institutions across the UK. Over 50 disease-causing genes have now been identified as a result – and Newlife is funding projects into new treatments.
Not only that, but Newlife's ten-year medical training programme has helped over 60 students get an insight into the world of research, working towards educating the next generation of researchers.
Find out more on Newlife's website.