Why Exhibit at Kidz to Adultz Scotland
One of the largest, FREE UK exhibitions dedicated to children & young adults with disabilities and additional needs, their families and the professionals who support them.
120+ exhibitors offering advice and information on funding, mobility, seating, beds, communication, access, education, toys, transport, style, sensory, sports, leisure and more!
FREE seminars for parents and professionals. Topics include: Moving & Handling, Sleep & Continence Issues, Direct Payments, Parental Experiences, Transition, Legal Advice and more…

"Excellent show for showcasing our physio services for visitors. Attending Kidz to Adultz Scotland offered me an important introduction to the NHS Orthotic Unit which enabled me to secure a contract. Some great leads for the future." Cerebral Palsy Physio & Equip to Move Ltd, Kidz to Adultz Middle 2015.
The benefits of exhibiting
Reach a highly a targeted audience of 93K+ with the mail shots, social media activity etc done as part as the marketing  campaign for the event:
Face to face interaction with a highly targeted audience of over 2,800+ potential customers In just one day! (professionals, parents, carers and all those working in the industry)
The Kidz to Adultz events are the perfect platform to launch your new and existing products and services
Develop new leads and contacts
Generate onsite sales
Increase your brand awareness with your onsite presence and in the pre-show marketing campaign
Gain immediate customer feedback
FREE CPD accredited seminars for parents and professionals. Topics include: Moving & Handling, Sleep & Continence Issues, Direct Payments, Parental Experiences, Transition, Legal Advice and more…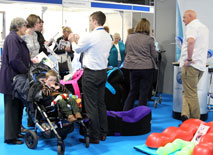 Book a stand today

Kidz to Adultz Scotland Floor Plans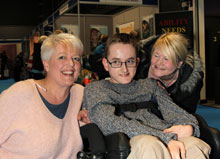 Advertising Opportunities at  Kidz to Adultz Scotland

What our exhibitors say…
"Kidz to Adultz Scotland has been an excellent event for us. It has continued the success we achieved at Kidz South with visitors keen to understand more about the unique differences our cots and beds deliver. The overall atmosphere of the show was positive and refreshing as we engaged with so many new faces who were attending a Kidz exhibition for the first time." Theraposture, Kidz to Adultz Scotland 2016
"Update exhibited at Kidz to Adultz Scotland, an exhibition for children and young adults with disabilities and special needs, and their families. As one of the largest free events for young disabled people in Scotland, the day provided the opportunity for the team at Update to speak with over 250 people in just one day. We talked to people about our helpline and information service and handed out lots of our most popular factsheets. Many of the people we spoke with were carers of children with disabilities, but we also met lots of professionals such as Occupational Therapists and other charity workers. All in all we had a really successful day and look forward to attending Kidz Scotland again." UPDATE – Disability Information Scotland, Kidz to Adultz Scotland 2015
"We love the Kidz events" Family Fund, Kidz to Adultz Scotland 2016 
Dates for your Diary