Family Fund is the UK's largest charity providing grants to families raising disabled or seriously ill children and young people. We were delighted to attend Kidz to Adultz North and have the opportunity to meet parents and professionals from across the North of England to tell them more about the support we can provide.
Pippa Hind-Walsh, Family Engagement Coordinator at Family Fund, said:
Kidz to Adultz North was a fantastic event, we spoke to over 200 parents, carers and professionals over the course of the day which was amazing, if a little exhausting! Lots of parents told us about the support they'd received from us in the past, and we met many more who hadn't applied before but left with application packs and lots of information. It was also a great opportunity to chat with lots of healthcare and education professionals about our grants and programmes and how we could help the families they work with.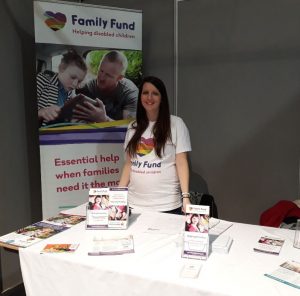 What do we help with?
We provide grants to families raising disabled children aged 17 and under, for a wide variety of items – parents and carers know what a child might need to help them, and we will look at any grant request that relates to the needs of a disabled child and their family. This might be furniture or white goods, clothing, bedding, outdoor play equipment, a digital device or perhaps a family break or day trip.
How else can we help?
Our support isn't just financial. Our Digital Inclusion programme helps families get the most out of their digital devices through one-to-one or group training, covering topics including accessibility features, parental controls, guided access and more.  We know that sleep difficulties are commonplace for families raising disabled children, and our sleep support hub, Tired Out, provides useful information and resources to help families get a better night's sleep.
Get in touch with us
If you'd like to find out more about Family Fund, or apply for a grant, take a look at our website. You can also call us on 01904 550055, email us, or find us on Facebook, Twitter, and Instagram.