Etac R82 will be unveiling its latest Danish designed paediatric dynamic seating system at Kidz to Adultz North – the new x:panda Evolution.
Kidz to Adultz North, Etac R82 Stand A17, Thursday 8th November 2018. 9.30am – 4.30pm. EventCity, Barton Dock Road, Manchester. M17 8AS.
Launched in 2007, the original R82 x:panda seating system has become one of the largest selling modular seats worldwide.
The x:panda helps children, with a range of conditions such as Cerebral Palsy, to maintain neutral pelvic positioning during involuntary extension and offers contoured support to the spine. Through a multitude of adjustable features, the x:panda facilitates greater comfort and stability yet allows movement for active play and motor skill development. Each of the four sizes have the flexibility to adapt to changing postural requirements as children grow and develop so offering a future-proofed, clinically effective solution. The new x:panda Evolution builds on this successful heritage to provide a seating solution that takes paediatric ergonomics to a new level.
It provides even more of a positive impact on muscle tone and movement through a range of new features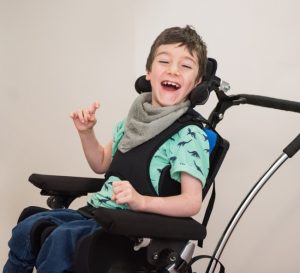 These include improved armrests, fixed wedges, visual measurement markings, cushions and covers. These additional elements perfectly complement original retained features such as the dynamic backrest, recline, full adjustability and accessory range. Acting as an assured base the x:panda can be easily adjusted to improve pelvic, thigh and feet stability which in turn increases trunk, shoulder and head balance. As with the original design, the Evolution can be mounted onto a range of maneuverable and adjustable R82 frames.
Jon Preater, Etac R82 Managing Director comments:
The new x:panda Evolution represents a significant innovation in assistive seating for children. Its clinical and ergonomic excellence is combined with world-class design, aesthetics and practically – all focused on improving daily living, development and enjoyment.
Alongside the latest x:panda, Etac R82 will be showcasing a broad selection from its standing, walking and seating ranges. The physio-focused R82 Meerkat and Gazelle standers will be demonstrated alongside the popular Crocodile and Mustang walkers. The innovative fabric-based Scallop and Wombat Living seating systems will accompany the Convaid and R82 Stingray buggies along with the popular Kudu wheelchair.