ERIC is the only charity dedicated to the bowel and bladder health of all children and teenagers in the UK. Whether it's a toilet training issue, bedwetting, daytime wetting or soiling problem – ERIC provides expert support, information and training to children and young people, families and professionals.
Our online shop sells an extensive range of carefully selected continence items. We've recently launched a new ERIC Catalogue showcasing just some of the 200 plus products available to purchase. With our in-depth knowledge of the most common childhood bowel and bladder problems, we can help you find the perfect product for your child.
Free copies of the catalogue will be available to collect from our stand V3 at the Kidz to Adultz Wales and West event in Bristol on Thursday 5th July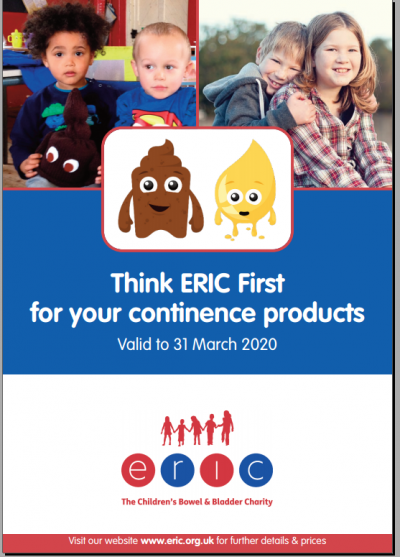 Buying from ERIC you can be certain to receive the best all round customer service and sales support. Keep an eye on our website for special offers. For the month of July save 10% on our Brolly Sheet bed pad hugs & kisses pattern. Just enter Brolly10 at the checkout to receive the discount!
Your support is vital as we receive no financial help from the government. Profits from our shop sales go straight back into our work to help more families and children.
Our expertly trained continence advisors will be manning the ERIC stand ready to offer help and support with childhood continence issues and product queries. The full range of ERIC's guides will also be available free of charge including ERIC's Guide for Children with Additional Needs. This leaflet has been designed to help parents and carers to toilet train children with a physical or learning disability. It provides information on whether a child is ready for toilet training, guidance on keeping bladders and bowels healthy and practical tips for establishing a toileting programme.