Kidz to Adultz South Venue Information
Farnborough International Exhibition & Conference Centre
Hall 1
Etps Rd, Farnborough,
GU14 6FD
(for SAT Nav use GU14 6TQ – follow signs for Gate F)
Tel: 01252 532800.
Email: event-enquiries@farnborough.com

Maps
Entry through Gate F and Exit through Gate A.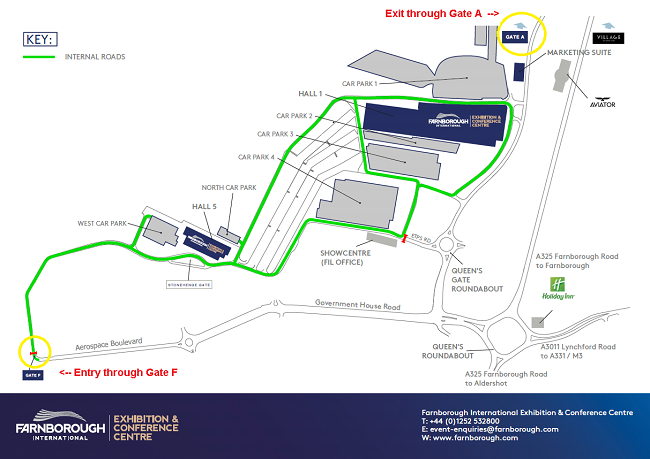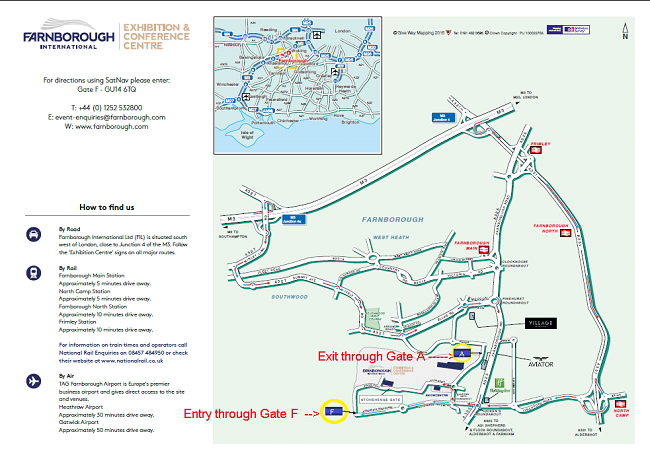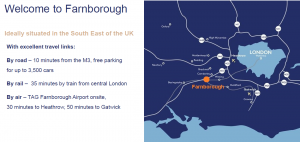 Help & Information
Disabled Living, organisers of the event and the Kidz main registration area. We can help with finding companies, equipment, details on exhibitors, seminars or any aspect of the event. Look for the red stars on the showguide floor plan.
Evacuation
If an announcement is made to evacuate the venue, please leave the building using the nearest fire exit, or as instructed by the fire marshals, venue staff or a member of the Kidz Team. DO NOT re-enter the building unless instructed to do so.
1st Aid
Trained staff are available at the event. If you require medical assistance report to the Kidz main registration area and speak to any member of Disabled Living staff (easily recognised by their Kidz shirts and tee shirts) or a member of the security team.
Accessible Toilets
Accessible toilets are through the Kidz main registration area, down the corridor on the left. There is also an accessible toilet in the Mobiloo changing facility. This will be clearly marked on the floorplan.
Changing Facilities
There will be a Mobiloo changing facility located within the hall. The Mobiloo is equipped with top of the range specialist equipment:-
• Tail Lift with a 1.6 metre platform.
• Adjustable height changing table.
• Electric hoist, allowing access to all areas of the Mobiloo.
• Toilet with retractable grab rail to each side.
Important hoist and sling information:-
Hoist users must bring their own sling with them. This is for your own safety and convenience – and to prevent any cross-contamination between different users.
For further information please visit : www.mobiloo.org.uk
Seating & Catering
A range of hot and cold food, drinks, snacks and sandwiches are available for purchase. Seating and catering areas are located within the main exhibition hall to the far left and far right.
Parking
FREE parking.
Dates for your Diary